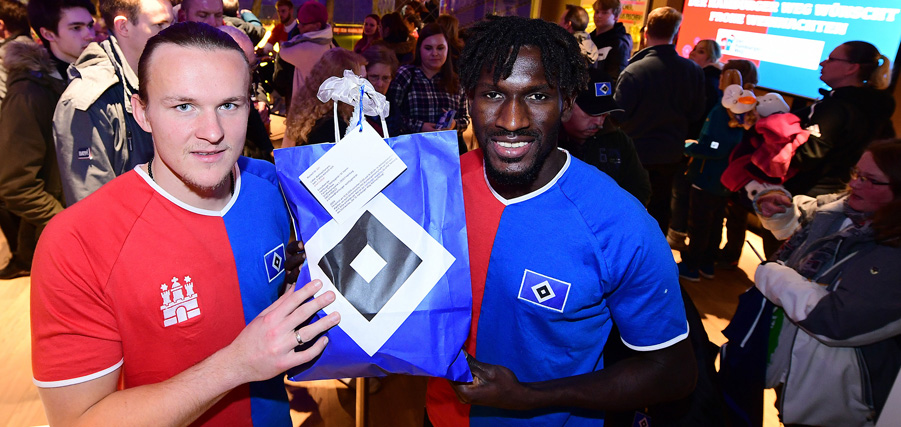 846 wishes fulfilled at the 12th Hamburger Weg Weihnachtstag
The Hamburg playing staff were more than happy to receive 846 Christmas presents from over a thousand wishmakers as part of the 12th Hamburger Weg Weihnachtstag.
The Hamburger Weg Weihnachtstag (Christmas Day) has become a regular fixture in the Hamburg calendar since its inception in 2008. Over 1,000 fans packed into the Volksparkstadion on Tuesday evening (10th December) for the 12th edition of the event organised by HSV's foundation. The attendees snaked their way past the pitch and into the Event Centre in the West Stand of the stadium, where Bernd Hoffmann, Frank Wettstein and Jonas Boldt were waiting to personally greet the fans who had made the trip. Hamburger Weg had placed thirteen different Christmas trees around Hamburg, with 846 cards on, all of which related to a wish from a child from twelve different institutions in the surrounding area. The Hamburg fans were then invited to pluck one of the cards from the tree and prepare the wish that was on the card. The various wishmakers made their way to the Volksparkstadion on Tuesday to hand the presents over to the playing staff, who will in turn deliver the presents to the recipients in the days leading up to Christmas. As a thank you for their act of kindness, the fans were able to chat to the players as well as get an autograph and selfie.
Sven Neuhaus, Director of 'Der Hamburger Weg', was impressed by how many HSV fans got involved: "This year we were able to break the record for the amount of wishes fulfilled and once again provide something positive together as a HSV family. It's great to see how you can directly make a difference in such an easy way. I would like to thank the HSV fans that got involved, who have made the wishes come true of so many children in need. We would also like to thank the playing staff, executive board and the HSV employees who once again helped us incredibly. A merry Christmas from all at 'Der Hamburger Weg'!