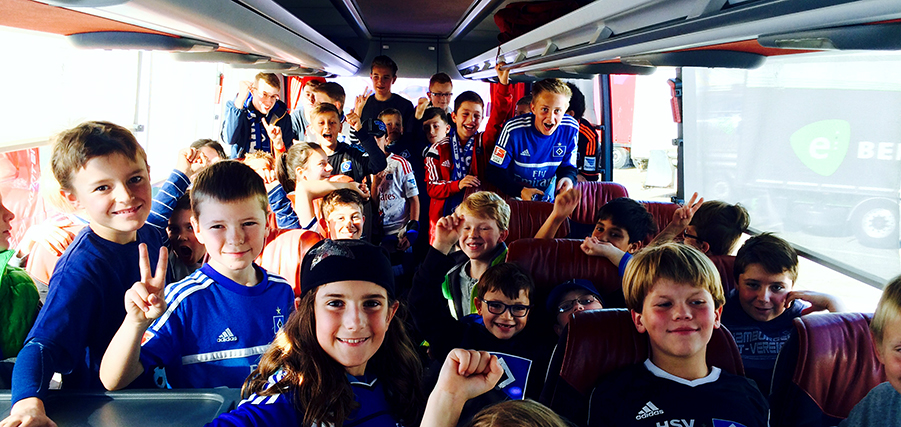 THE EXCLUSIVE CLUB FOR ALL CRAZY HSV FANS!
WANT TO EXPERIENCE HSV UP CLOSE AND PERSONAL ALONGSIDE OTHER YOUNG FANS? BECOME A MEMBER OF THE HSV KIDS CLUB NOW AND GET EXCLUSIVE BENEFITS FROM YOUR FAVOURITE TEAM.
Don't just see your favourite HSV players during matches – any fan 14 and under can also experience many more magical moments as a member of the Kids Club. With a bit of luck, you could also get the chance to walk out with the team into the Volksparkstadion – and that's not all.
ALL KIDS-CLUB MEMBERSHIP BENEFITS:
• an exclusive welcome package and personalised membership card
• one team poster and selection of autographs per season
• first option on tickets for home and away matches of HSV
• your own name plate at the Volksparkstadion
• the chance to apply to walk out with the team for a Bundesliga game (only available for members aged 5 to 10)
• exclusive Kids Club events
• discounts for the HSV football school, HSV kids' birthdays and HSV holiday programme
• your very own HSVlive member magazine (online or paper version)
• HSV Live kids' magazine delivered to your door four times a season
• regular email newsletters with everything you need to know about HSV
• Kids Club tipping game with great prizes and much more…
---
Year subscription = €32
Admission charge = €15 (one-off)
Admission ensues on the first of each month if the membership form is received on or before the 15th of the month. Payment of the yearly subscription is split into two and will be debited from the given account on the 1st February and 1st August.
---
JUST A COUPLE MORE STEPS UNTIL YOU'RE A KIDS CLUB MEMBER!
Print off the membership form.
Please fill out the entire form: uncompleted forms cannot be processed.
All membership forms must be signed by a parent/guardian and the account holder.
Send your membership form to HSV via post or email.