'Der Hamburger Weg' Structure
Honorary patron, executive board and board of trustees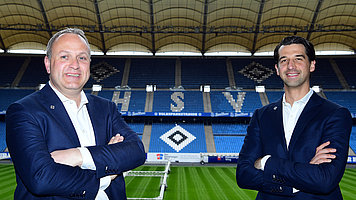 The honorary patron of the foundation is the City of Hamburg's First Mayor, Dr. Peter Tschentscher. The executive board for the foundation is made up of Frank Wettstein (chairman), Jonas Boldt and Sven Neuhaus.
The executive board is supervised by the board of trustees, comprising Andy Grote (chairman), Ties Rabe (vice-chairman), Andreas Höttler, Dr. Jürgen Mantell and Thorsten Raquet.
The foundation's projects are implemented by a team of employees from HSV and SPORTFIVE.
---
Financing
The club's foundation, 'Der Hamburger Weg', was granted an initial donation of €100,000 from HSV Fußball AG when it was founded in 2015. The yearly outgoings from the foundation are covered by contributions from HSV as well as donations from the club's partners. As well as covering sponsorship costs, every partner donates €35,000 a year, whilst every patron (Förderer) contributes a yearly donation of €20,000. One-off donations are also possible.
---
Expenses
A maximum of 15% of the total donations are used by the foundation for costs that are directly incurred by projects run by 'Der Hamburger Weg'. Personnel costs, administrative costs as well as public relations costs are all paid for by the club.