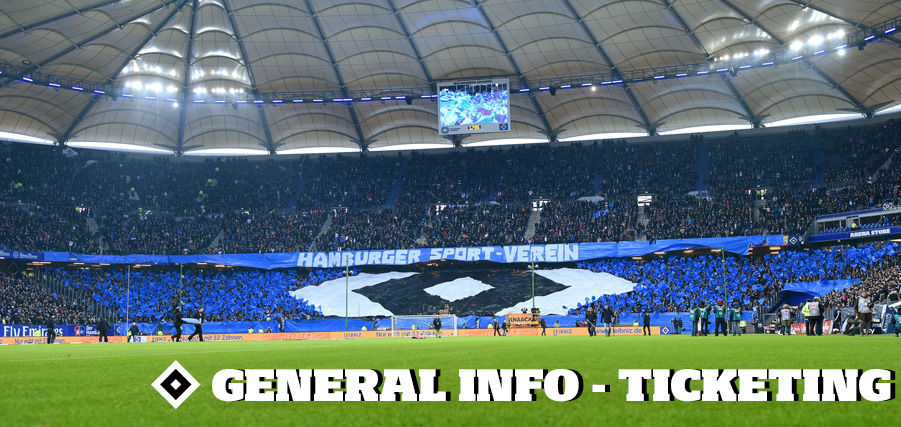 General information
Here you can find general information on how to buy tickets for HSV home games.
Please note that at the current time tickets for HSV home games can only be purchased by season ticket holders due to the ongoing effects of the coronavirus pandemic. We hope to be able to welcome back more fans to the Volksparkstadion soon!
Here is a quick overview of the stadium and some FAQs:
Is it true free travel to and from the game is included in the cost of my ticket?
As is normal in Germany, the cost of a match ticket also includes free travel on public transport to and from the game. A ticket to a HSV home game entitles you to one free journey to AND from the game on the HVV network, which is the public transport network in Hamburg. This included rings A-F, so you can travel from as far away as Oedel to the Volksparkstadion for free. More information on how to get to the ground and the HVV network can be found here.
Where is the best atmosphere at the Volksparkstadion?
The best atmosphere at the Volksparkstadion, like at the majority of German football grounds, comes from the standing section. The standing section in the Volksparkstadion is located in the Nordtribüne (North Stand) from blocks 22-28A. There are no assigned places to stand in the standing section, you can choose where you stand within the block that you bought your ticket in. These areas of the stadium fill up the quickest before kick-off, so we would recommend getting to your place in plenty of time to secure the best standing positions/best views. However, please be aware that the standing section is the most popular part of the ground and very few, if any, standing tickets go on general sale.
Can I print my ticket at home?
Unfortunately we don't have a Print @ Home option for our tickets just yet but it should be out at some point in the near future.
I've ordered my tickets online but am not sure if they will turn up in time? What can I do?
This isn't a problem at all! If you have ordered tickets via the Online Shop but they don't turn up before you leave for Hamburg, all you have to do is send an email to info@hsv.de The ticket office will then print off another copy of your tickets which you will be able to pick up from the ticket office on matchday. Therefore it's best to buy tickets in advance, rather than waiting until matchday, as even if they don't arrive in time then you still have them reserved. On top of that, you can only get reduced tickets (e.g. student, OAP, etc.) before matchday.
Where's the best place to sit if you're with your family/young children?
There is a designated family block at the Volksparkstadion, which can be found in blocks 8A-C, in the south-east corner of the stadium. Children's tickets can be bought at a discounted rate in this block, with two reduced-rate children's tickets being able to be bought with every full-priced adult ticket. Smoking is permitted in most of the stadium, but is not permitted in blocks 7-9A/B/C, which includes the family block.
How much does a ticket cost?
The price of a ticket depends on each game. By clicking on the stadium block plan below, you can see a rough outline of where each price category is in the stadium, but it is meant purely as a guide and where each price category is in the stadium depends on the game. You can see much tickets cost for each home game here.
Where are the away fans at the ground? The away fans are situated in the south-west corner of the stadium, in blocks 14A and 14B, and usually 14C as well. Tickets for the away section can only be bought via the visiting team.
HAVING TROUBLE BUYING TICKETS?
An online shop in English is currently under construction, we apologise that tickets can only be bought in German at the moment. If you are having trouble booking tickets using the online shop, then you can use the graphic below as a guide as to roughly where each price category is inside the stadium. Click on 'view here' to view the block plan of the stadium.
Below is a step-by-step guide on how to book tickets in German using the online shop. If you have any questions, be sure to get in touch with us on Twitter or Facebook, or you can ring up the Service Centre on +49 40 4155 1887 to book tickets, all of the telephone operators can speak very good English and will be able to help you.
Step 1)
Tickets can be bought via the Online Shop which can be found in the menu under Tickets on the menu at the top of the page. Clicking on HSV Online Shop will take you to the Online Shop home page.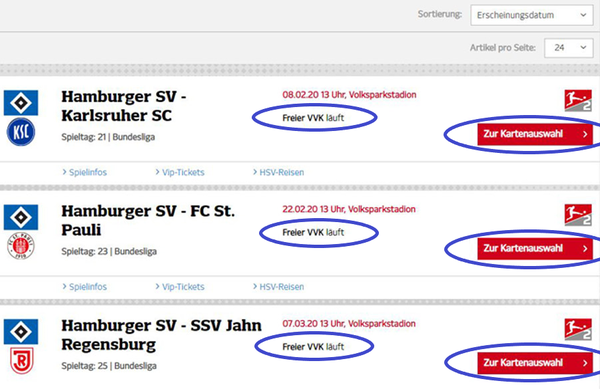 Step 2)
If you are looking to buy tickets for a home game, then you need to click on the 'Heimspiele' button.
Step 3)
You can now choose which home game you would like to buy tickets for. Click on 'Zur Kartenauswahl' (the red button) to see which tickets are available for each game. 'Freier VVK' means that tickets are on general sale and can be bought by anyone. If 'Mitglieder VVK' is above 'Freier VVK' then it means that tickets are currently only on sale for members. You can find out when tickets will go on general sale for each game here.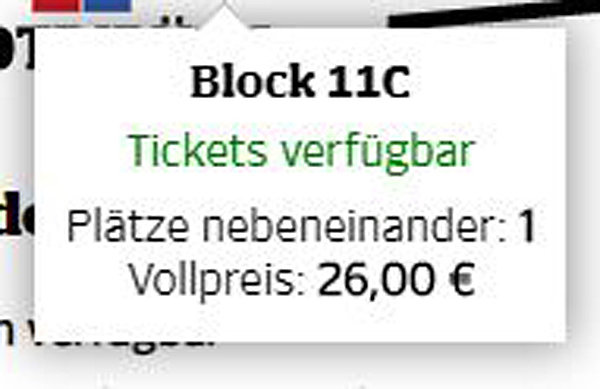 Step 4)
Now you should find yourself with an overview of the stadium in front of you. You can still buy tickets in the blocks in royal blue, all tickets have been sold out in the blocks that have been blacked out. Some important vocabulary, including when you hover your mouse over a specific block:
Karten verfügbar - Tickets available
Ausverkauft/nicht verfübar - Sold out/not available
VIP-Plätze - VIP seats
Plätze nebeneinander - Tickets available next to each other
Vollpreis - Full price for a ticket
Zurück - back
Spielfeld – pitch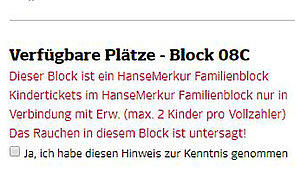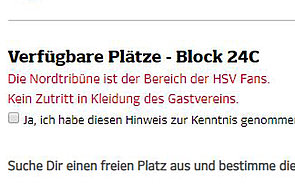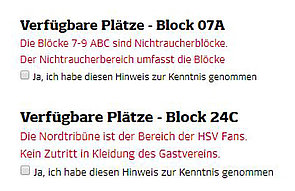 Step 5)
After you've clicked on a specific block you are shown the tickets in that block. In some of the blocks you have to tick a box before you can buy tickets in that block. For example
Family section (blocks 8A-C): This is the HanseMerkur family block. Reduced children's tickets can be bought in the family block in combination with a full price ticket (maximum 2 children per full-paying adult). Smoking is not permitted in this block!
Nordtribüne (North Stand - blocks 22-28A-C): Only HSV fans are allowed in the North Stand. You will be denied entry if wearing the opposition team's colours.
No-smoking blocks (blocks 7-9A-C): No smoking is allowed in blocks 7-9A-C and encompasses the whole area of the blocks.
If you agree with the statement, you can tick the box which says: 'Ja, ich habe diesen Hinweis zur Kenntnis genommen.' (Yes, I have taken this message on board.')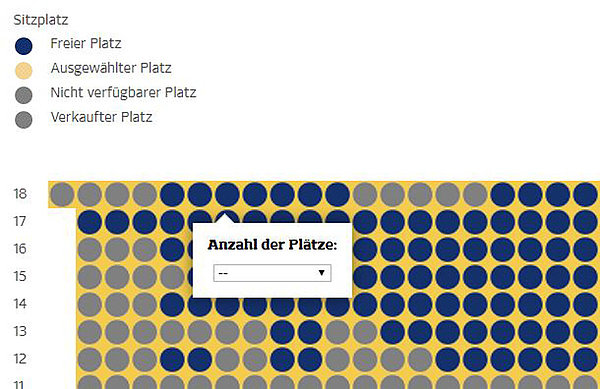 Step 6)
You should now be able to choose where you would like to sit. All of the circles that are in royal blue are available to purchase (Freier Platz - free space).
After selecting a space you can then choose the amount of spaces you would like (Anzahl der Plätze), depending on how many people are in your party.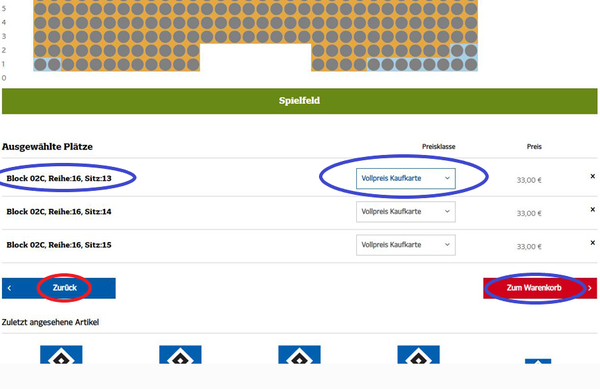 Step 7)
Once tickets have been chosen, you can see the overview at the bottom of the screen, with the block, row and seat you have chosen. By clicking on the drop-down menu by 'Vollpreis Kaufkarte' you can change your ticket if any discounts are available such as 'Jugendliche bis einschließlich 21 Jahre' (Youth tickets up to and including 21 years), 'Kinderkarte bis einschließlich 14 Jahre' (Children's ticket up to and including 14 years).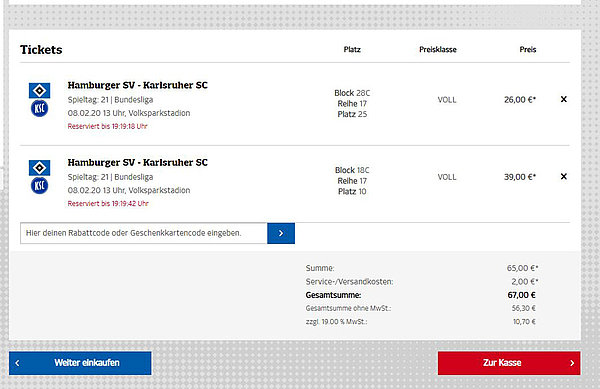 Step 8)
If you want to choose other tickets, you can press the blue 'Zurück' button or if you are happy with your purchase you can look at your basket by pressing the red 'Zum Warenkorb'.
At the basket you will see an overview of your tickets, if you want to take any out you can just press the blue X next to each ticket. If you are happy to proceed then you can press the red 'Zur Kasse' to head to the checkout.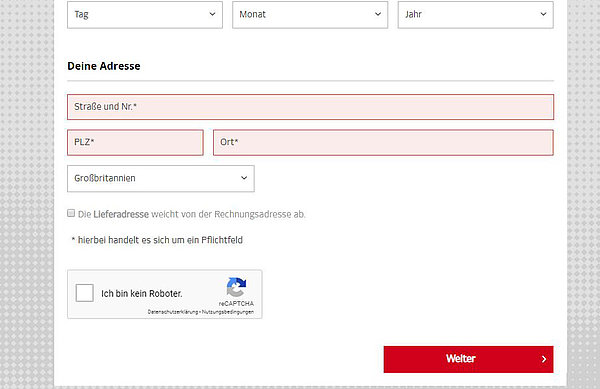 Step 9)
Before paying for the tickets, you have to register your details:
Anrede - Title
Vor/Nachname - First/Surname
E-Mail-Adresse - Email address
Passwort - Password
Wiederholen - Repeat
Geburtsdatum - Date of birth
Then add your address, Straße - street, PLZ - postcode, Ort - Town/City and then choose the country from the dropdown menu:
Großbritannien - U.K., Dänemark - Denmark, Frankreich - France, Irland - Ireland, Vereinigte Staaten - U.S.A.
If your billing address is also different to your delivery address, click the small check box just below and add in your billing address.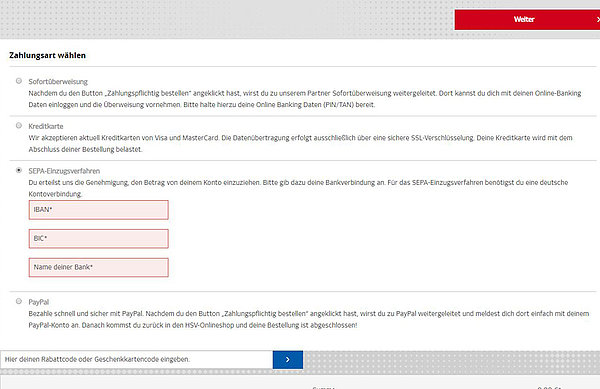 Step 10)
The next step is paying for the tickets. As a non-German citizen you can either pay by:
Credit card (Kreditkarte, we accept Visa and Mastercard)
Bank transfer (SEPA-Einzugsverfahren)
Or PayPal.
Step 11)
On the final screen you can check your order, delivery address and details and if you're happy with the purchase, then you can send it off. Hope this little guide helped and if you have any problems feel free to get in contact with us!