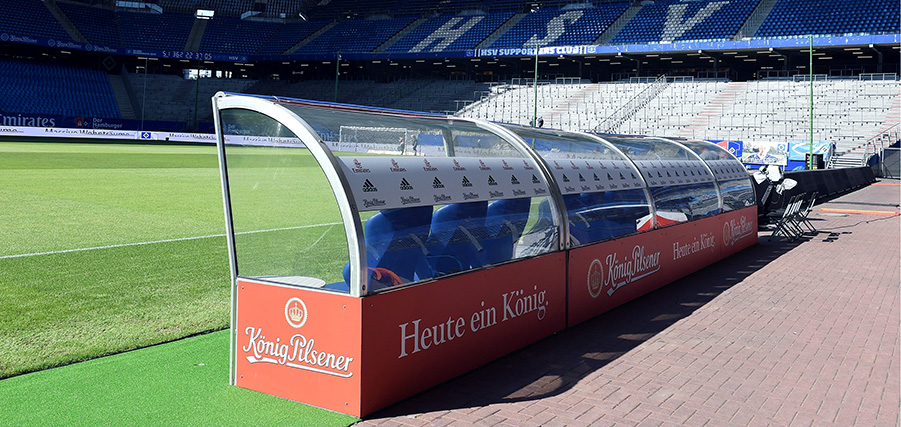 Stadium tour & HSV-Museum
Volksparkstadion guided tour - a unique view
English guided tours of the Volksparkstadion are run daily.
The tour offers visitors a unique view of the stadium, an opportunity to see a different side to the Volksparkstadion and the chance to learn about the club.
The tour begins at the club museum and then proceeds to the stands and the fan zone. Visitors will learn about HSV's history, the Volksparkstadion itself and see where all the press conferences take place.
The next stop is the VIP area, where you will experience how things are organised on matchdays, passing by the area where celebrities and special guests watch the game.
And then on to the press room: this is where games are broken down and analysed, where the players and head coaches face the media's questions.
At the bus entrance, visitors will get a real feel for what it's like for players to enter the stadium on matchdays. This leads into the Mixed Zone, the place where teams meet before going out on to the pitch. The first post-match interviews happen here, too.
The changing rooms show you where players get changed and where the team talks happen. This is where players get in the zone before kick-off.
A real highlight of the tour is walking out onto the pitch through the players' tunnel. This last part gives you the opportunity to see the stadium from the players' point of view and to experience what it's like to be in the Volksparkstadion on matchdays.
We offer exclusive stadium tours on matchdays.
| Participation without advance notification | Start time* |
| --- | --- |
| November - March: | |
| Monday - Thursday | 12:00 h & 14:00 h |
| Friday - Sunday | 12:00 h & 14:00 h & 16:00 h |
| April - June: | |
| Monday - Sunday | 12:00 h & 14:00 h & 16:00 h |
| July 1st - August 11th: | |
| Monday - Sunday | 11:00 h & 12:00 h & 13:00 h & 14:00 h & 16:00 h |
| August 12th - October: | |
| Monday - Sunday | 12:00 h & 14:00 h & 16:00 h |
| Holidays: | |
| Dec 24th 2019 | 10:30 h & 12:00 h |
| Dec 27th - 30th 2019 | 11:00 h, 12:00 h, 13:00 h, 14:00 h & 16:00 h |
| Dec 31st 2019 | 11:00 h, 12:00 h & 13:00 h |
| May 2nd - 5th 2020 | 11:00 h, 12:00 h, 13:00 h, 14:00 h & 16:00 h |
| *no public stadium tours on match days | |
Contact to the HSV-Museum and stadium tours
HSV Fußball AG
Volksparkstadium
Sylvesterallee 7
22525 Hamburg

Tel: +49 (0)40 4155 - 1550
Fax: 040/4155 - 1541

Mail:museum@hsv.de
Requests to the archive:archiv@hsv.de
---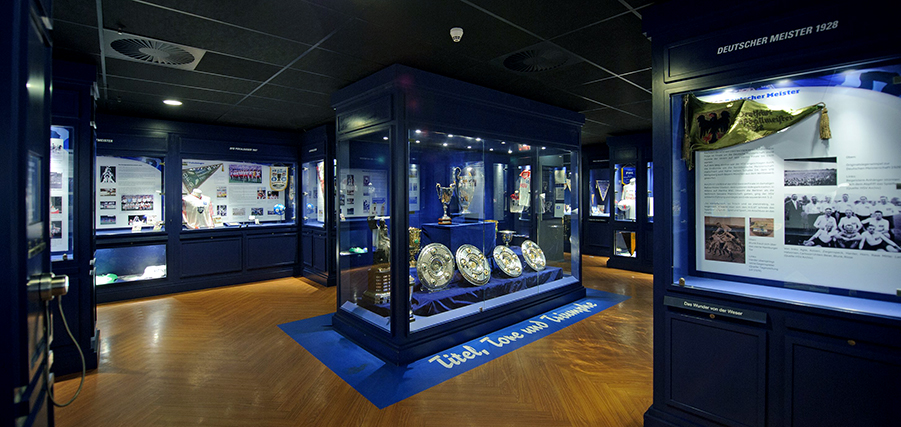 HSV MUSEUM AT THE VOLKSPARKSTADION
Immerse yourself in the history of HSV in our 700m2 museum. See exciting displays and lots of video footage while you relive tough defeats, memorable nights and of course our most famous wins.
Relive it all again and reveal the final secrets of one of Germany's most important clubs.
Museum

Stadium tour incl. museum

Adult

€6

€12

Reduced prices*

€4

€8

Children (6-14 years)

€3

€6

Family ticket**

€15

€28

*HSV members, students, seniors, handicapped person, unemployed person, Hamburg card

**Parents with own children till 14 years.
---
GROUP OFFERS
Book all of our programmes as one appointment for your group at your preferred time. Whether a tour for young or old, a stag party or a school trip: book our entire programme as one appointment and state your preferred start time. The size of your party doesn't matter – private tours are possible for any size party, from individuals to big groups.
You also have the option of reserving a tour outside of our usual opening hours. If you have something extra special planned and would like to enquire about venues, caterings or anything else, let us know and we'll put together a bespoke package.
We also offer tours for the visually or hearing impaired.
Note: No tours will take place on matchdays or during similarly large events at the stadium. HSV also reserves the right to close off parts of the stadium tour during any event.
---
ARRIVAL AT THE VOLKSPARKSTADION
By car:
The Volksparkstadion is located at Sylvesteralle 7, 22525 Hamburg. Parking spaces for the museum are next to the north-east ramp, so head for the north-east entrance and turn right up the ramp.

By public transport:
Take the S3 or S21 to Stellingen or Eidelstadt. From there, it's just a 15-minute walk to the stadium. Alternatively, get the 22 bus to Schnackenburgallee (10-minute walk to the Volksparkstadion).