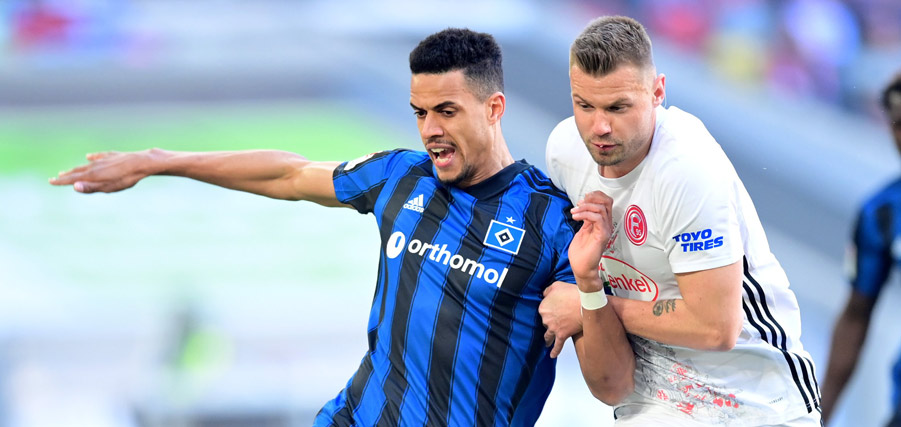 1:1 in Düsseldorf! Glatzel secures point in last second
Bozek scores for Fortuna two minutes before the end (88th). Glatzel equalised in the third minute of injury time.
After the involuntary Corona break last matchday, HSV were able to take home a point from their visit to Düsseldorf. On Saturday (19 March), the Reds drew 1-1 with Fortuna (0-0). This only came about in a gripping final phase. Substitute Adam Bodzek scored after a corner to give the hosts a late lead (88th), but Robert Glatzel equalised with a header in the last action of the game to secure a lucky away point for his team, as Walter's side rarely found their usual game throughout the 90 minutes.
Fortuna check inside and outside post
Tim Walter was able to call on all players again after the numerous Corona infections last week. Only Jonas Meffert was absent due to yellow card suspension, replaced by Moritz Heyer in defensive midfield and Josha Vagnoman at right-back. Ex-HSV coach Daniel Thioune, who has also recovered, made four changes compared to the 1:1 in Paderborn: Zimmermann, Hoffmann, de Wijs and Ginczek started for Uchino, Piotrowski, Oberdorf and Köther. HSV started with a lot of possession, but had hardly any action in the front third. Düsseldorf became more confident from minute to minute and thus stronger and had two XXL chances in the first half. First, Prib circled a free kick over the wall (14th), which Heuer Fernandes just managed to steer to the inside post, and de Wijs failed to push the ball over the line from close range. Shortly before half-time, Iyoha appeared completely free in front of the Rothosen keeper and shot the ball at the far post (45.). For HSV, there was only one shot by David Kinsombi (36th), who had come into the game in the 24th minute for the stricken Miro Muheim, which resulted in several position changes in the team. The Hamburg team had to struggle with this throughout the first half and were still well served with the 0:0 at the break.
Lucky punches on both sides
The second half began as the first ended: with a huge chance for Fortunen. But Tanaka missed it with his direct shot, which Vagnoman was able to deflect at the last moment. Düsseldorf was more active in all areas, HSV simply did not play as well as they used to. Tim Walter reacted with a double change. Alidou and Gyamerah came on for Jatta and Chakvetadze. At first, this only changed the course of the game to a limited extent. HSV remained harmless offensively, but the hosts also had to pay a little tribute to the tempo. The game flattened out, penalty area scenes were few and far between, and it had to come down to a lucky punch. And this came, even on both sides. First, Kinsombi had the lead on his feet when he sensed a pass from Kastenmeier in the penalty area, but his pass to Glatzel, who was also free, was unsuccessful (76th). Fortuna Düsseldorf then turned onto the winning track. As in Nuremberg, HSV conceded a goal through Bozek shortly before the end with a long-range shot following a corner (85th). But Walter's team still had an answer ready. Glatzel nodded in a Kittel corner in the last action of the game to equalise 1-1.
---
Match Summary

Fortuna Düsseldorf: Kastenmeier - M. Zimmermann, Hoffmann, de Wijs, Hartherz - Tanaka, Prib (75.Bodzek), Narey, Iyoha (85.Bozenik) - Ginczek (62.Lobinger), Appelkamp (85.Peterson)
Hamburger SV: Heuer Fernandes - Vagnoman (86.Wintzheimer), Vuskovic, Schonlau, Muheim (24.Kinsombi(86.Rohr) - Heyer, Reis - Chakvetadze (56.Gyamerah), Glatzel, Jatta (56.Jatta)
Goals : 1:0 Bozek (85.), 1:1 Glatzel (90.+3)
Attendance: 31.353
Referee: Marco Fritz (Korb)
Yellow Cards: Prib (73.), Bodzek (88.) / Jatta (33.)
Yellow - Red Cards: - / -
Red Cards: - / -