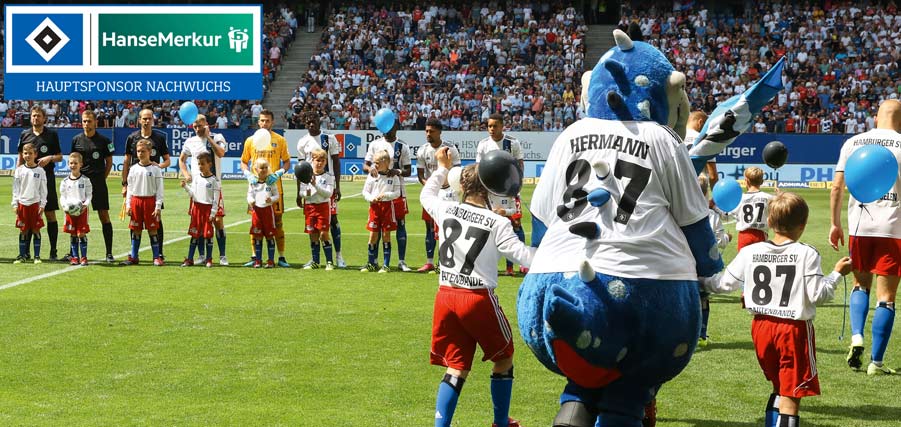 Be a HSV matchday mascot
To walk out at the Volksparkstadion hand-in-hand with a first-team player is a dream that many young HSV fans have, and one that becomes a reality for some lucky members of HSV Kids Club every season.
The tension is building, you can here the atmosphere from the catacombs of the Volksparkstadion and the referee gives the signal to go out onto the pitch - and you're in the middle of it all! Together with HanseMerkur - HSV's main academy sponsor and the kit sponsor of the matchday mascots - the HSV Kids Club every season offers its members between the ages of five and ten years the opportunity to apply for the chance to be a matchday mascot for a HSV home game.
You're not a HSV Kids Club member yet? You can find all of the information here.
---
This is how to apply!
Show us who your favourite HSV player is. It doesn't matter if it's a photo, a picture you've drawn, a poem or a video. We don't want to limit your ideas.
It's this easy: Please upload the photo or video via our online portal along with your name, membership number and current address. Important: The file size limit is 3.5MB.
If you or your parents don't have access to a laptop or smartphone, you can send your entries in to us via post. Please supply us with your name, membership number and current address as well as your entry. Send to:
HSV Fußball AG
Kids-Club: RAUTENBANDE
Sylvesterallee 7
22525 Hamburg
If you aren't already a HSV Kids Club member, you can find more information here.
If you're too old for the 'Rautenbande' group of mascots, you also have the possibility to be one of the flagbearers for our home games.
We look forward to your applications!
Your Kids Club team
HSV Fußball AG
Kids-Club
Sylvesterallee 7
22525 Hamburg