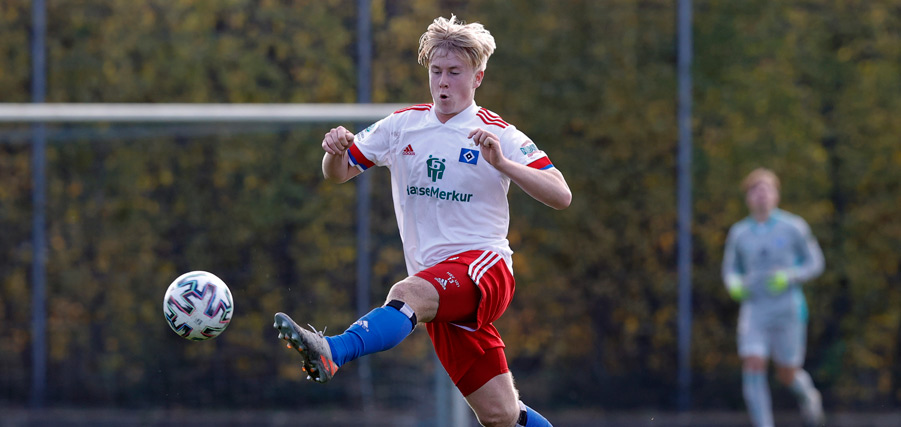 Under-19s to under-16s
When reaching the under-16 level at the HSV academy, focus begins to turn to performance and replicating what has been learned in a competitive environment.
From the age of 15 onwards, the skills that have been learnt by the youngsters in the HSV academy should begin to show on the pitch. After building on the foundations laid from under-12 to under-15 level, these skills are then further specialised from under-16s onwards as the level of competition increases from local to regional and national level. All three teams play at the highest level possible, with the under-16s playing in the B Junioren Regionalliga Nord, the under-17s in the B-Junioren Bundesliga Nord/Nordost and the under-19s in the A-Junioren Bundesliga Nord/Nordost.
As the level of competition ramps up, the boys also receive more specialist help from the staff at the academy, with a strength & conditioning coach and goalkeeping coach for each team, and the help of the individual skill coaches, sport psychologists and game analysts on hand if requested by player or manager. With the under-11 to under-15 teams based in Norderstedt, the rest of the HSV academy teams are based at the HSV campus next to the Volksparkstadion, part of the Alexander-Otto-Akademie which was opened in June 2017. The facilities at the academy include a boarding house for players not based in Hamburg, classrooms for tactical sessions, top-notch nutrition put on by the HSV catering staff and an array of astro and grass pitches for training sessions and games. The proximity to the training pitches of the first team also improves the cohesion between the academy and the professionals, as first-team regulars and academy hopefuls rub shoulders.
You can find the current under-19s squad here, under-17s squad here and under-16s squad here.