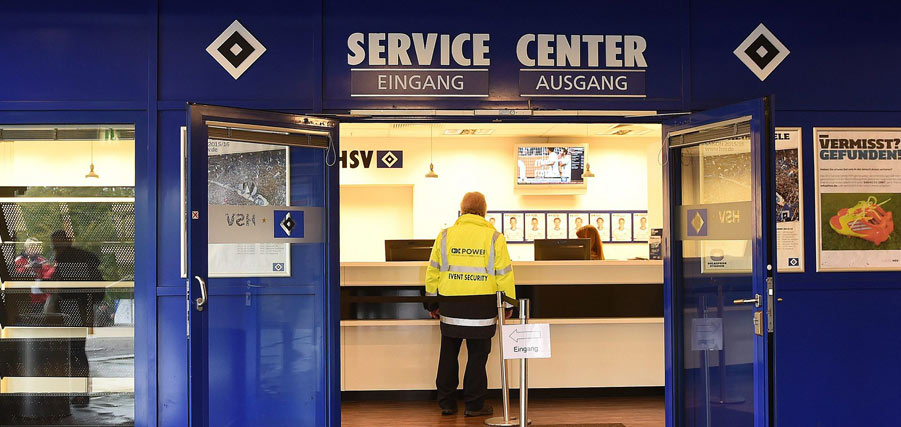 HSV Service Centre
The HSV Service Centre is next to the Rautenwelt at the Volksparkstadion's north-east entrance (Eingang Nord/Ost) and is open during HSV home games at the Volksparkstadion.
The HSV Arena Store, HSV Museum and the on-site restaurant 'Die Raute' are all in the same area as the HSV Service Centre, the area known as Arenawelt.
In the HSV Service Centre you can buy ticket for all HSV home games. Please be aware that tickets for away games can only be bought via the HSV Online Shop. The Service Centre team will be happy to help you whatever your query is regarding home games, tickets and the whole matchday experience at the Volksparkstadion.
We look forward to welcoming you to the Service Centre soon!
HSV Service Centre Opening Times
Opening Times:
Monday to Saturday from 10:00am to 4:00pm
Phone: +4940 4155 1887
Monday to Friday from 9:00am to 6:00pm
Saturday from 10:00am to 4:00pm
Availability via phone on home matchdays
Friday games: 9:00am until kick-off
Saturday games: 9:00am until kick-off
Sunday games: 9:00am until kick-off
Monday games: 9:00am until kick-off
Opening times during home games:
Friday games: 10:00am until around 30 mins after full-time
Saturday games: 10:00am until around 30 mins after full-time
Sunday games: 10:00am until around 30 mins after full-time
Monday games: 10:00am until around 30 mins after full-time