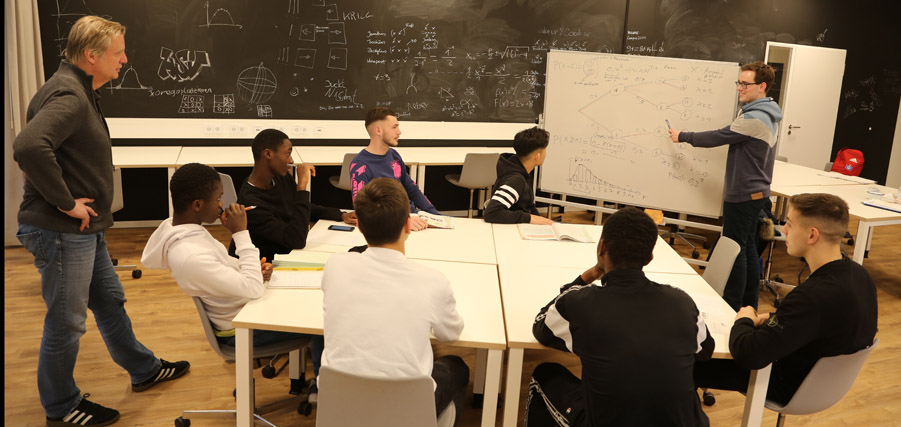 Academic support for players
As well as strides made on the pitch, how the academy players develop in the classroom is of central importance to the youth work at HSV.
From under-16 level right up to the under-21s, the academy players' lives are centred around the Alexander-Otto-Akademie (AOA) next to the Volksparkstadion. At the state-of-the-art facility, the players complete all aspects of their footballing life, from their team's training sessions, to tactical work, strength and conditioning training, medical assistance and physiotherapy. Some of the players even live at the academy, whilst all of them receive a tailored and balanced diet at the cafeteria.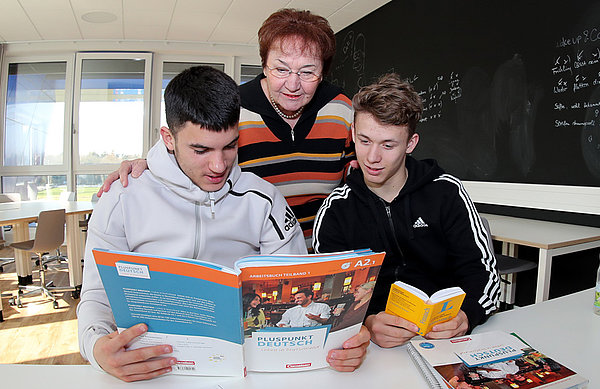 On top of the sporting parts of their education, it is important for the club that the players perform well at school and achieve the best grades possible. The players aren't just tested on the pitch, but also have to give everything for the qualification that is deemed right for them in the classroom. In order to make this process as successful as possible, players are offered after-school academic help during their time at the campus in Norderstedt from under-11 to under-15 level. One employee and one after-school tutor are available for every team daily to help with any questions they may have with what they are doing at school. In this way, the students create a daily rhythm for themselves that enables them to attain their goals on and off the pitch.
This principle continues after the boys leave the Norderstedt campus and graduate to the AOA. Help is available for homework, preparation for exams or presentations and in the form of after-school tutoring, particularly for German, English and Maths. Our academic coordinators organise this afternoon tutoring, and are in close contact with HSV's partner schools and the player's teachers as well as helping the boys to find an internship (for example with a club partner). The coordinator also helps the players to catch up after missing school due to games or being on international duty.
Due to the strain the players are put under having to perform both at school and on the pitch, the club has partnerships with six different school to ensure the best sporting and academic education. We recommend our players and their parents that they attend one of our partner schools, as the school knows how to balance the academic and sporting education and has specialist skills and knowledge to support the pupils during their unique path to the pros. For example, the training at school is integrated into the timetable and there are regular exchanges between teachers, managers and school coordinators to update on individual pupils and how the process is working as a whole. Finally, the schools are situated close to the campuses in Norderstedt and Volkspark, reducing travel time between home, school and training pitch.
| Responsible party | Role | Contact details |
| --- | --- | --- |
| Joachim Ranau | School coordinator | joachim.ranau@hsv.de |
| Sebastian Schmidt | Head of School Education | sebastian.schmidt@hsv.de |