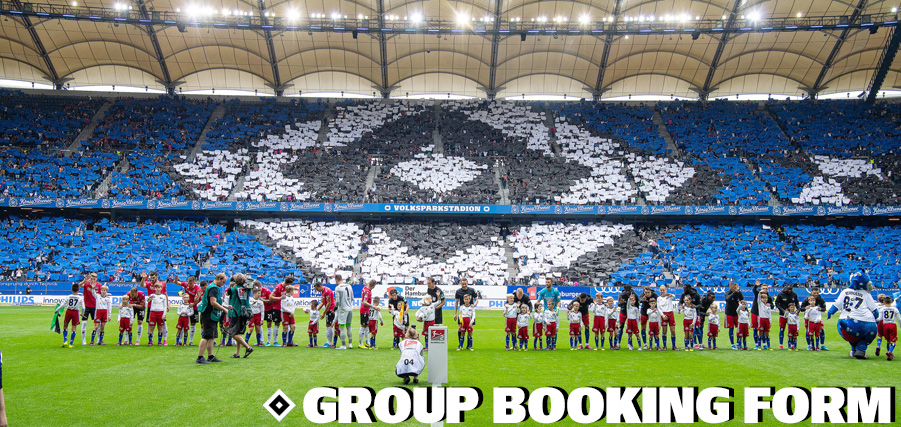 Group tickets
On this page you can fill in our online form for group tickets for HSV home games if you are a group of 8 or more people. If you have any questions, be sure to contact the HSV-Hotline on +494041551887 or send us an e-mail on info@hsv.de.
What do you have to take into account when completing a booking for a large group?
The form to apply for group tickets only goes online when tickets for the game go on general sale. You can find out when tickets will go on general sale here.
Group bookings can only be made for groups of 8 people or more.
The booking is only binding when you receive the confirmation email.
No more than 50 tickets can be ordered for one game.
Child tickets apply for children 14 years of age and younger.
Please note when choosing the 'Group section' option in the form:
Tickets in the 'group section' are reserved for groups of children/teenagers as well as their guardians. If your group is mainly made up of adults, then please don't order tickets in the 'group section'. This category is purely intended for the above-mentioned parties, and is only available for certain home games.
What happens after I've sent off the booking form?
Once you have sent off the form, you will then receive a confirmation email from the Service Centre within a number of days, and be guided through the payment process, you may have to arrange to call up the Service Centre if paying by certain methods. Once the money has left your account, that means that the tickets have been paid for and have been sent to the address that you put on the booking form.
How do I know where each price category is in the stadium?
Although the categories and price vary for each game, you can get a rough idea of where each price category is in the stadium by looking at the stadium block plan below.
Looking to combine tickets for a match with accommodation in Hamburg?
You can find all of the information about our various travel packages here or we would be happy to advise you further over the phone on +494041551347. We're certain that we'll be able to arrange the perfect package for your group!
You can change the form below into English by pressing on the button 'Sprache', and selecting Englisch.