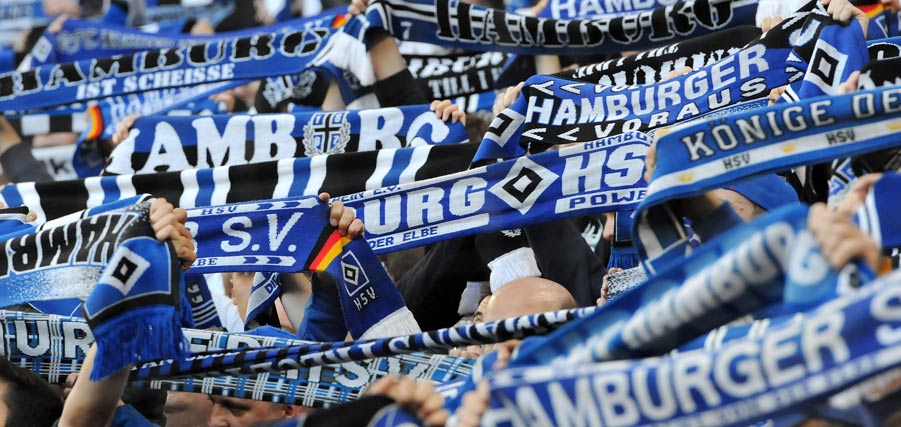 HSV Fan Culture Department
Duties and remit of the HSV Fan Culture Department
The Fan Liaison Officers act as the first point of contact for all HSV fans, not just during first team matches at the Volksparkstadion but also throughout the week.
They are also the direct connection to the active fan scene and its members and are in constant contact with various fan organisations, fan clubs and fans not belonging to particular groups.
As the contact point for topics related to fans of any kind, they also maintain and foster the relationship with institutions, clubs and associations (such as the DFB and DFL), to share and strengthen the fans' position. This also applies for the fan liaison officers who are available for away fans during home games at the Volksparkstadion.
---
Areas of responsibility
• Preparation, implementation and accompaniment for HSV fans at home and away matches in co-operation with the stadium management, stewards, the visiting/home team and the police.
• Supervision and administration of the official fan clubs (including ticket orders, information for fan clubs via Facebook and Twitter, visiting fan clubs)
• Available to call via: +4940 4155-1530
• Events and projects (including fan talks, player visits to fan clubs, official fan club meetings, training camp)
• Dialogue with the active fan scene as part of the "Ständigen Arbeitskreis Fandialog" (Regular Task Force for Fan Dialogue)
• Working groups and Committees (including Nordbeirat and Netzwerk Erinnerungsarbeit (Remembrance Network))
---
History and development of the fan culture department
Fan liaison work at HSV began in 1993, when official fan clubs were also able to be set up. Starting with 32 OFCs and one Fan Liaision Officer, the area has grown to now include 1,171 official fan clubs and seven members of staff working in the Fan Culture department.
The number of members, the average attendance, the active fan scene - everything at HSV has got bigger and increased in size. Whilst we had an average attendance of 28,500 in 1995, today over 50,000 visit the Volksparkstadion for a home game and up to 10,000 away from home. Nur der HSV!