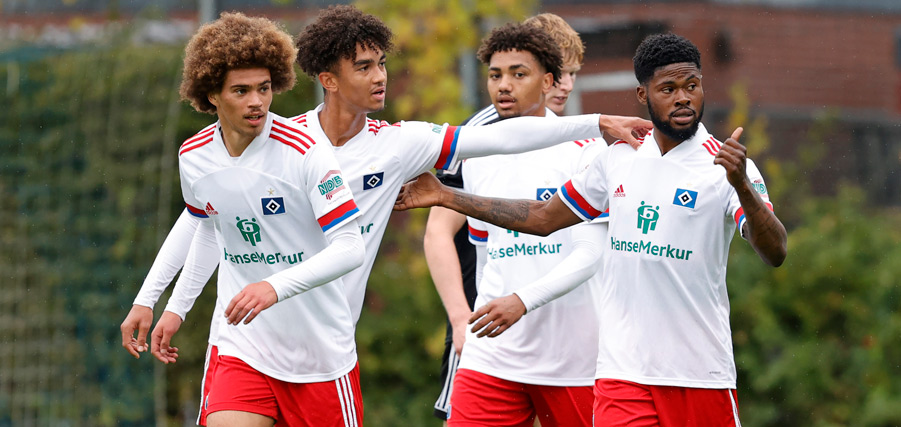 Under-21s
HSV's second team and oldest youth side are an important part of the HSV academy concept, bridging the gap between youth and adult football.
The team closest in age and quality to the first team should have the same orientation and focus as the professionals, with the youth work ensuring that all of steps between age groups are successfully integrated into the system and academy concept as a whole. Since the 2016/17 season, the second team is no longer an under-23 side but limited to under-21s and competes in the Regionalliga Nord, the fourth division of German football. For the talented youngsters the under-21 set-up is the most important step in their careers to making it as a professional footballer. Only in the most exceptional cases can players make the step up from the under-19s straight to the first team squad, therefore the players should be developed for another two years, also systematically increasing the take-up from the under-19 squads.
Through the realignment of the second team, it was agreed that players who had been with the club since under-17 or under-19 level should only stay in the under-21s for a maximum of two years. After that period, the player should be able to make the step to the pros, either with HSV or another club. As such the functional transitions between the under-19s and under-21s should be strengthened in future. The manager of the under-21s, currently Pit Reimers, has a special role to fulfil, balancing the roles of developing players and being successful in a semi-professional adult division, whilst also being in constant contact with the under-19 manager and first-team coaching staff.
To give the younger players stability during the transition from youth to professional football, two or three older players should make up the spine of the team, shaping the hierarchy, increasing the quality of training and motivating their younger teammates. The strongest players from the under-19s should have the best opportunity to take the next step in their development with an appropriate, tailored individual training programme. After a positive development of a time period of two years maximum, the players should have developed the skills for the HSV first team or another team in the first, second or third divisions of German football.