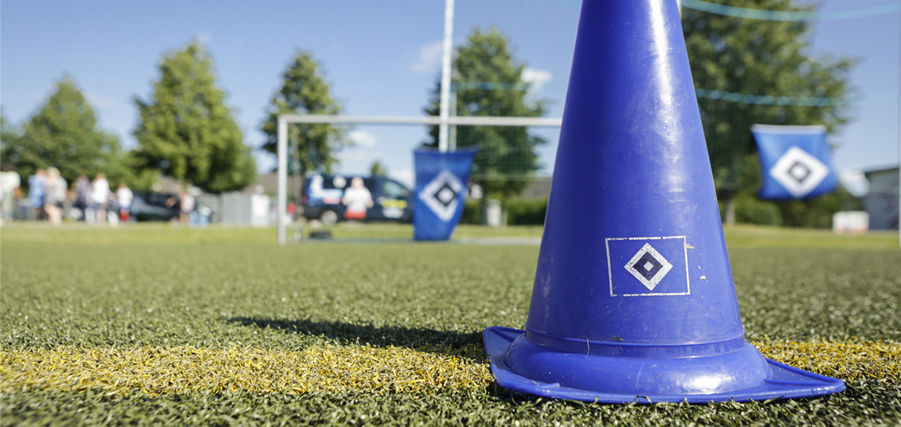 About
Here you can find an overview of the training and camps that the HSV football school offers.
The HSV Fußballschule (Football School) was founded on the 13th October 2003 with the first official HSV football camp at Norderstedt to the north of Hamburg. The Football School has come on leaps and bounds since, considerably expanding its offering for young HSV fans throughout Northern Germany and ensuring that the children receive the best possible training to improve their skills, have fun and begin to understand the values that drive HSV on and off the pitch.
The Football School passed a considerable milestone in 2020, with the 100,000th participant taking part in one of the many training camps offered, and around 140 camps are organised in 120 different locations in Northern Germany every year, with camps in Denmark and Turkey also underway. The training camps, which take place on weekends or during school holidays, are the bread and butter for the Football School, carried out by a pool of over 100 qualified coaches.
Specialised camps are also on offer, with Leistungscamps for more experienced club players and Goalkeeping Camps (Torwartcamp) for those wanting to be the star between the sticks. For something special, Matchday Camps (Spieltagscamp) are arranged with children able to train on the pitches adjacent to the Volksparkstadion before watching a home game, and Language Trips (Sprachreisen), where a group are taken abroad to experience a new culture and language whilst also continuing to improve their footballing skillset.
But young HSV fans and those that would like to get to know the club better don't just have to wait for school holidays and weekends, with a wide variety of weekly training also able to be snapped up. Development training (Fördertraining) and technical training (Techniktraining) are ideal for those wishing to expand the skillset learnt at their clubs. Specialised sessions once again do not go amiss, with Goalkeeping School (Torwartschule) and Minikicker Training, aimed at four- and five-year-olds who cannot wait to get started with the ball at their feet, fun of course being the number one aim for this age group.
If you would like to take part in any event offered by the HSV Football School, you can follow the links to see when current weekly training sessions and holiday camps will take place, although all of the information is in German. If you would like to contact the Football School for a tailored solution for you or your child, you can use the contact form below.