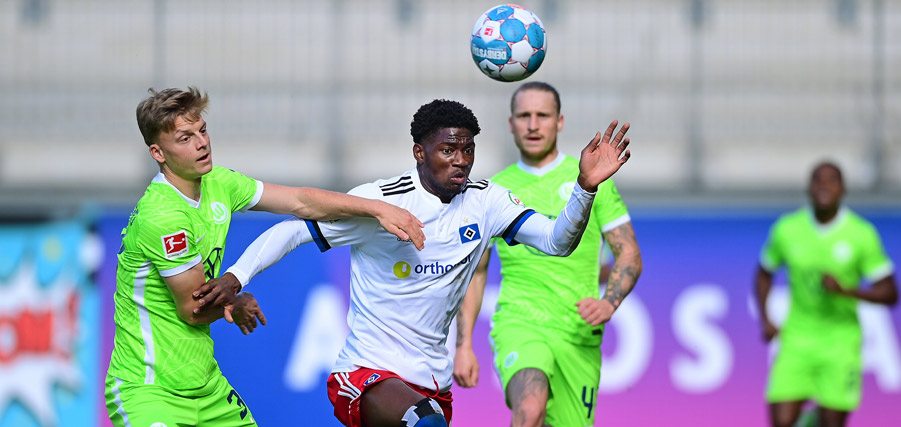 1:4 HSV defeat in friendly vs Wolfsburg
A hat-trick by Lukas Nmecha and a goal by Maximilian Arnold ensured a clear friendly match defeat. Anssi Suhonen scored the goal that brought us back into the match.
Hamburger SV lost the friendly at VfL Wolfsburg 1:4 on Wednesday afternoon (6 October). In the duel with the Bundesliga team and Champions League participant, the Red shorts were clearly inferior, especially in the first half (0:3), and made too many individual mistakes in defence. A clear improvement in performance in the second half was ultimately only enough for a minimal correction of the result, as another goal conceded and a poor use of chances stood in the way of a complete turnaround.
A Dominant host display...
The hosts dominated much of the first half and took their three goals well to show it. A much changed side with players off on International duty for both teams. Youngsters Fairde Alidou and Anssi Suhonen both starting and giving HSV their best glimpses of the opening 45.
Then came the early goal. A Maximillian Arnold corner kick fron Daniel Ginsczek at the back post. His shot was then steered in by Lukas Nmecha, leaving Marko Johansson helpless on the line. Soon after the hosts and Nmecha doubled their tally. Again, a corner kick was swung in. Jonas David's attempted clearance was deflected and found its way to the feet of Maximillian Phillip. His low cross was met by a very cooley taken backheeled finish by Nmecha into the bottom corner.
Not many clear cut chances were created from HSV but Alidou made good use of his pace and got into the correct spaces to cause some problems for the hosts. Unfortunately unable to capatilze on these chances the host added a third. A cross ball found its way to Captain Arnold in acres of space as he slotted home from short distance.
...Youngsters Impress in Second Half
It was a more positive beginning to the second half. The introduction of Wintzheimer allowed HSV more chances on the left hand side, linking up well with Robin Meißner and Miro Muheim. The latter was at hand to assist with the HSV goal. A great ball across landed at the feet of young Finn Anssi Suhonen who made no mistake in burying the chance. A Mistake in the form of a misplaced forward pass helped the opposition with their fourth. A quick counter heads towards Nmecha who made no mistake in slotting his hat trick past Johansson in the HSV goal.
Substitutions came on and made a slight difference. Glatzel capatlised on a sleeping defence but saved by the keeper. He also had the ball in the net but only to be called for offside while Bakery Jatta hit a penalty well wide of the target to ensure the scorline stayed at 4-1
It must be said that it was a fairly impressive performance for young Alidou.
---
How the Teams Lined up
VfL Wolfsburg: Pervan (46. Klinger) – Stefaniak, van de Ven, Lang, Gerhardt (14. Di Michele Sanchez) – Arnold (46. Wagbe), Philipp – Baku (71. Littbarski), F. Nmecha – Ginczek, L. Nmecha
HSV: Johansson – Gyamerah (64. Leibold), Schonlau, David, Muheim – Meffert (46. Wintzheimer) – Kinsombi (64. Jatta), Heyer – Suhonen (71. Velasco) – Meißner (64. Glatzel), Alidou
Goals: 1:0 L. Nmecha (16.), 2:0 L. Nmecha (30.), 3:0 Arnold (43.), 3:1 Suhonen (54.), 4:1 L. Nmecha (60.)
Schiedsrichter: Robert Schröder (Hannover)
The Friendly Re-Live