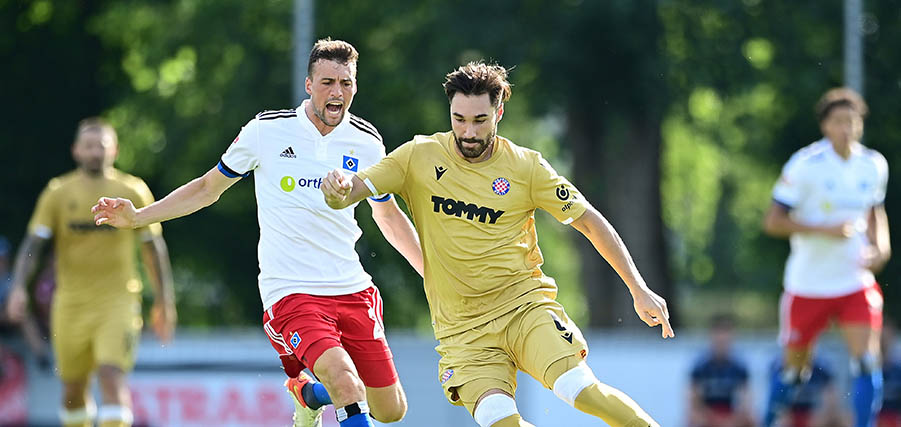 2-2 HSV draw with Hajduk in Friendly match
In the duel with Croatian first division club, Glatzel and Königsdörffer countered the respective leading goals from Livaja and Cubelic.
Hamburger SV played its first test match of the 2022/23 season on Wednesday afternoon (29 June). As part of the summer training camp in Styria, the Red Shorts met Hajduk Split and drew 2-2 with the Croatian first division team. Robert Glatzel (33.) and Ransford-Yeboah Königsdörffer (88.) were responsible for the HSV goals, while Marko Livaja (28.) and Ivan Cubelic (68.) scored for the Croatians.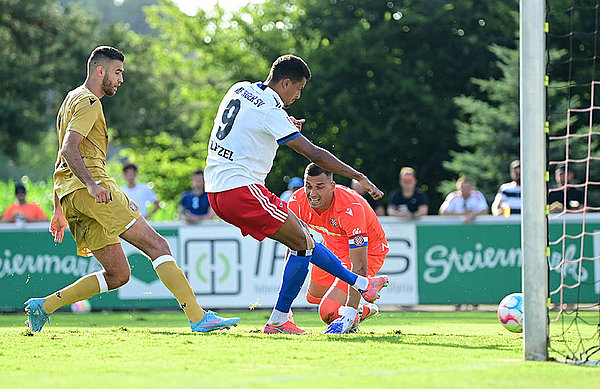 Heated start...
In ideal conditions at the Rudolf-Gutmann-Stadion in Fürstenfeld, the Reds had their first moment of shock after just one minute when Hajduk attacker Marko Livaja unnecessarily tackled Heuer Fernandes. Fortunately, the HSV keeper was able to continue after a short treatment break, but the Croatian team's very aggressive approach continued. The Hamburg team, however, kept a cool head in this heated situation, freed themselves from the pressing traps and created the first goals: While Muheim (16th) missed clearly from distance, Glatzel (17th) failed in the next attack after a pass from HSV newcomer Filip Bilbija on the crossbar. Walter's team continued to set the tone for the game before the Croatians took the lead 0:1 through Livaja (28) after a quick advance down the left. But HSV's response was not long in coming: first centre-back Jonas David and finally Robert Glatzel pushed a Muheim free-kick over the line in a co-production for the 1-1 equaliser, which was also the score at the break.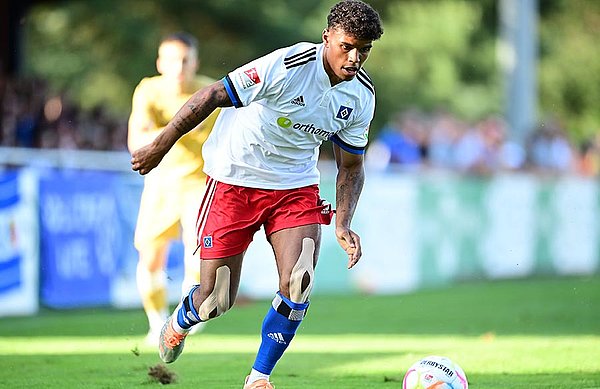 ... And a cool end.
After the change of ends, both teams presented themselves in a new look, with only HSV keeper Heuer Fernandes and homegrown David remaining on the pitch. Meanwhile, after Bilbija, two more newcomers, Laszlo Benes and Ransford-Yeboah Königsdörffer, made their debuts in the HSV jersey. Due to the lively interchanges on both sides, the flow of the game slowed down a bit before Sonny Kittel sent out a signal after about an hour with a shot from the left corner of the penalty area, but missed the goal by a few centimetres. The Eastern Europeans were more effective on the other side, taking the lead again with a targeted pinprick and the resulting goal by substitute Ivan Cubelic (68th) - 2-1. The Rothosen, who also had many field advantages and were clearly more active in the second half, pressed for another equaliser, which Benez (78th, 80th) initially missed twice, marking the second HSV crossbar goal of the match. Nevertheless, the Walter men, who played well until the end in temperatures of around 30 degrees Celsius, managed to equalise: Königsdörffer headed a short corner into the net for the final score of 2:2, thus rounding off a very good first test for the 2022/23 season in terms of results.
---
THIS IS HOW HSV PLAYED:
First Half: Heuer Fernandes - Heyer, David, Ambrosius, Muheim - Meffert - Rohr, Bilbija - Opoku, Glatzel, Amaechi
Second Half: Heuer Fernandes - Heil, Zumberi, Vuskovic, Leibold - David (78. Andresen) - Benes, Reis - Königsdörffer, Meißner, Kittel (78. Megeed)
Goals: 0:1 Livaja (28.), 1:1 Glatzel (33.), 1:2 Cubelic (68.), Königsdörffer (88.)
Referee: Rene Eisner (Österreich)