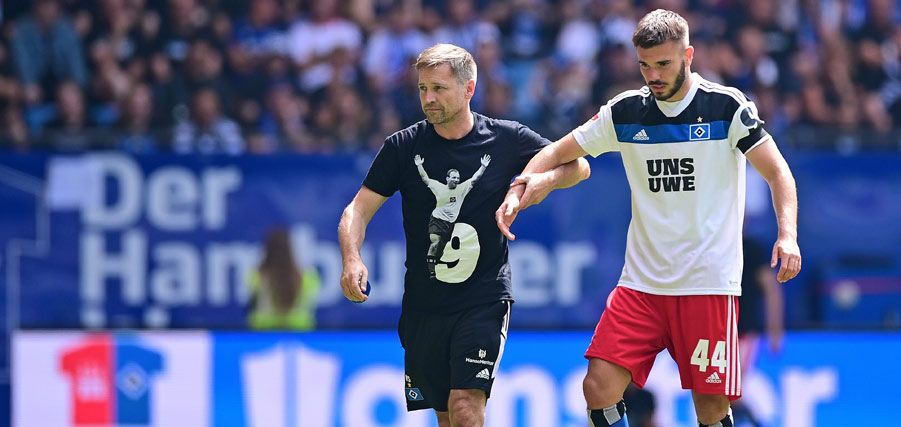 All-clear for Vuskovic - Croatian hopes to play in Bayreuth
Mario Vuskovic tore his thumb ligament in the home match against Hansa Rostock. The Croatian wants to train again on Wednesday and play in the cup match on Saturday.
When Mario Vuskovic collided with Hansa striker John Verhoek and team-mate Laszlo Benes in the air in the 58th minute and then fell to the ground, he immediately realised that something was wrong: The Croatian looked in horror towards his right thumb, which was clearly visible sticking out from the rest of his fingers. "The situation was very unfortunate because at that moment I should not have had to contest the duel. Unfortunately, my thumb was dislocated in the crash, I saw that immediately after I fell. Fortunately, the doctor (team doctor Dr. Wolfgang Schillings, editor's note) and the physiotherapists put the finger back in place. After that, I really wanted to continue playing," explained Vuskovic, who actually returned to the pitch to the thunderous applause of the HSV fans. The Croatian then fought the severe pain for around 15 minutes, after which a precautionary measure was taken and Jonas David was substituted.

In the end, the brave centre-back had to watch the rest of the game from the bench - and classifies the sporting setback (0:1) just as sobered as all the other HSVers, but also with a healthy confidence: "I am very disappointed that we lost yesterday. We have to analyse the game, draw the right conclusions and do better in the cup match at the weekend," said the 20-year-old, already looking ahead in his analysis to the Rothosen's first-round appearance in Bayreuth (30 July, kick-off: 3.30 pm). If the Croatian has his way, he will play again at the Hans-Walter-Wild-Stadion: "The examinations have shown that nothing is broken. Only the thumb lateral ligament is torn. Now I have an orthosis and will check on Wednesday in training whether I can cope with it. Hopefully I'll be ready for the game on Saturday." Fact is: Vuskovic, who is one of the absolute top performers and has been part of the starting eleven in each of the past 28 HSV compulsory games (23x 2nd Bundesliga, 2x Relegation, 3x DFB-Pokal), will do everything he can to make a 29th appearance in a row possible. The big fighter's heart will help.