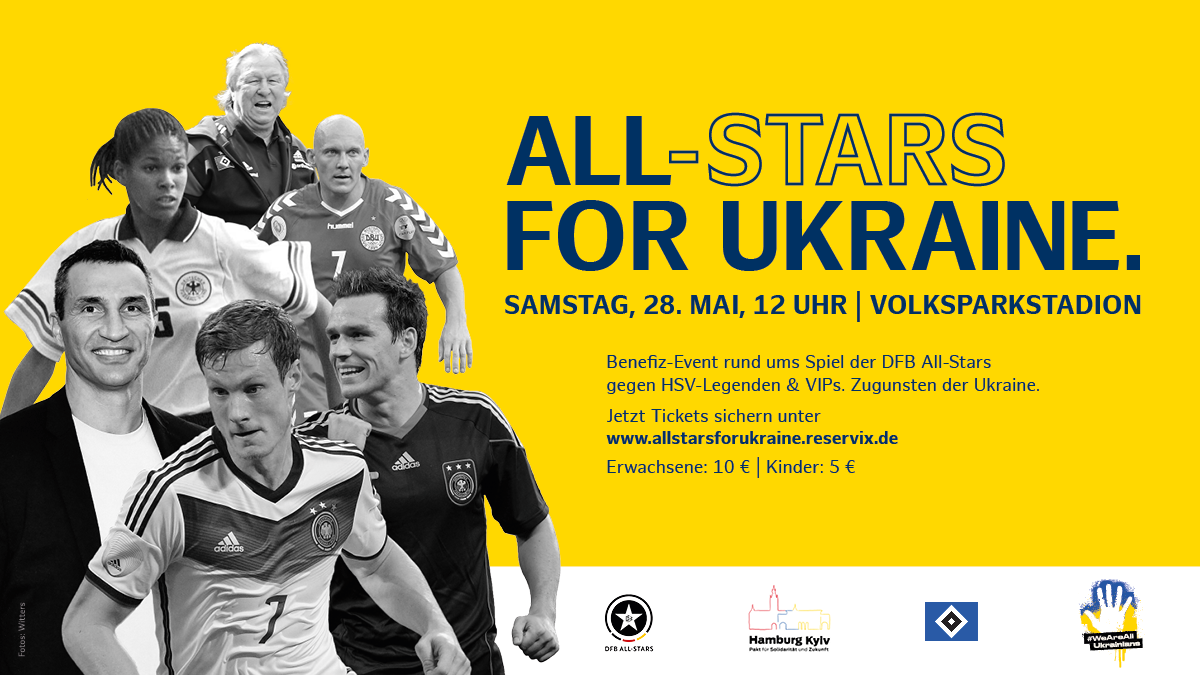 ALL STARS FOR UKRAINE: Here's how the big charity match goes down
Numerous stars from the sports, music and entertainment industries will be guests at the Volksparkstadion on Saturday to send a signal for solidarity and peace. HSV.de provides all the information on this event in a compact overview.
After the atmospheric season finale, the next big highlight is just around the corner at the Volksparkstadion: On Saturday (28 May), the big charity event All-Stars for Ukraine will take place. The focus of the event is the football match between the "DFB All-Stars" and the "Team Hamburg & the World with HSV Legends". At the same time, there will also be numerous activities and events around the Volksparkstadion - including a half-time show with a live performance by special guest Johannes Oerding, a raffle with attractive prizes and a colourful programme for children with a mascot parade. To help you keep track of all these highlights, all the important information is clearly presented here
This is the schedule for the day:
from 10.00 a.m.: opening of the box office(cash payment only); admission: adults 10 €, children 5 €; tickets also online at: allstarsforukraine.reservix.de/events
from 10.00 a.m.: Start of large collection campaign (sleeping bags, woollen and fleece blankets for Ukraine) at the north-west ramp of the stadium
11.00 a.m.: Opening of the stadium
11.15 a.m.: Start of the stadium show with HSV stadium announcers Christina Rann and Christian Stübinger.
12.00 hrs: Entry of the legends
12.20 p.m.: Kick-off of the charity match - 2 x 35 minutes
approx. 13.00 hrs: Half-time show with live performance by Johannes Oerding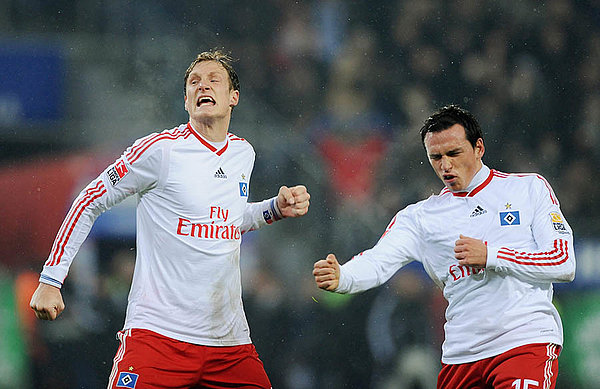 These stars have announced their presence:
From the world of football: Horst Hrubesch, Marcell Jansen, Piotr Trochowski, Ailton, Jörg Butt, Christian Rahn, Thomas Gravesen, Stig Töfting, Harald Spörl, Ingo Hertzsch, Bastian Reinhardt, Mohamed Zidan, Ivan Klasnic, Rodolfo Cardoso, Thomas Helmer, Patrick Owomoyela, Patrick Helmes, Navina Omilade, Conny Pohlers, Miriam Scheib, Jennifer Meier and Ursula Holl. among others.
From the world of sport and showbiz: handball legend Martin Schwalb, Johannes "Jogi" Bitter (HSV Hamburg Handball), basketball player Marvin Willoughby (Hamburg Towers), American football player Kasim Edebali (Hamburg Sea Devils), chef and TV presenter Tim Mälzer, NFL expert Patrick "Coach" Esume, actor Kostja Ullmann and presenter and actress Nova Meierhenrich, among others.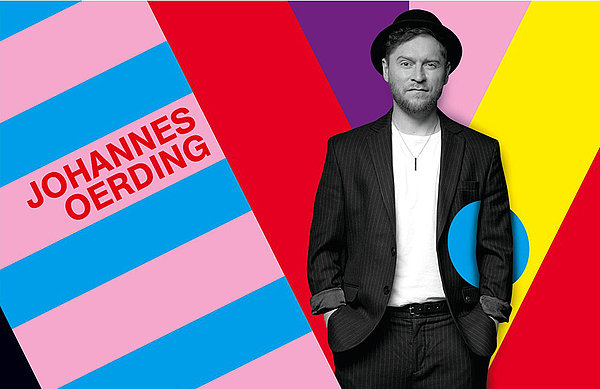 Other special acts:
Natali Klitschko will sing the Ukrainian national anthem.
Half-time show with live performance by singer and songwriter Johannes Oerding
Attractive raffle prizes such as luxury holidays, signed jerseys, private dance lessons - donated by Jürgen Klopp, Isabel Edvardsson and many more. Distribution of prizes at the Westplaza.
Colourful programme for children with a mascot parade - including Dino Hermann from HSV, Eddi from Hannover 96, Holli from SC Paderborn and Fiete from HSV Handball Hamburg.
If you can't be there live, NDR will be broadcasting the event live on TV from 12 to 2 pm.