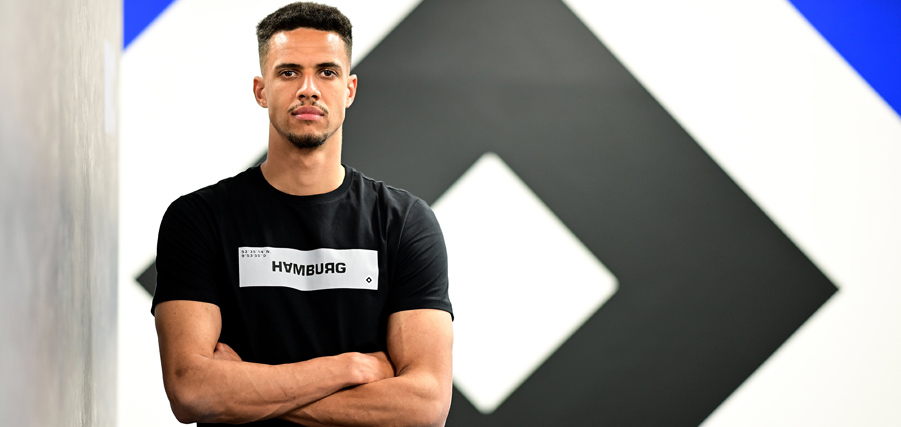 Bobby stays! Robert Glatzel extends contract with HSV
The 28-year-old centre forward signs a new contract until 2025 and will continue to follow HSV's path.
Robert "Bobby" Glatzel is staying with HSV and will continue to hunt for goals for the Rothosen in the coming season. What's more, the 28-year-old goal scorer extended his current contract early until 30 June 2025. "Robert is very important for our team, both in terms of sport and character. He has impressively demonstrated this not only with his 27 goals in competitive matches, but also with his commitment on and off the pitch in the past season. I am very pleased that he continues to support our chosen path and has extended his contract," says board member Jonas Boldt.

Glatzel moved to the Elbe from Cardiff City last summer and played an important part in coach Tim Walter's team from the very beginning. In the 2nd division, he scored 22 goals (+ 4 assists) in 34 games and finished second in the goalscoring charts behind Schalke's Simon Terodde (30 goals). In addition, the Munich native scored five goals in the DFB Pokal, making him the most successful scorer in this competition.

"I am delighted to remain on board at HSV. The club, the team and the fans have grown close to my heart. Every single one of my 41 games so far has been special. That's why I'm looking forward to everything that's coming up now. We all have common goals and want to achieve them. I want to do my part," said Glatzel after signing his new contract. This means that another important cornerstone of the team is in place for the coming season.