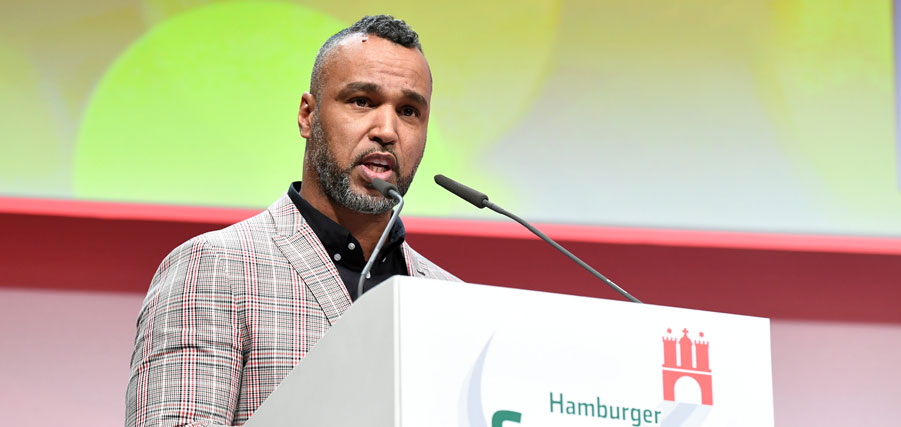 Coach Esume shadowing HSV coaching staff
The former American football coach Patrick Esume is continuing his professional development as a manager and will be seeing what life is like at HSV in the next 10 days.
'Coach Esume' is well-known by most German sports due to his exploits as an American football coach as a presenter on TV. Yet Patrick Esume's interests extend far beyond touchdowns and field goals, as the 46-year-old will shadow the HSV coaching staff for the next 10 days and gain an understanding of what life is like as a coach of a professional football team.
The idea of Esume being invited to HSv was initiated by Jonas Boldt and Dieter Hecking, with HSV Head of Sport Boldt getting to know Esume during his time at Bayer Leverkusen. The pair stayed in contact ever since and agreed with Hecking in January that Esumes would be able to shadow the management team in his home town of Hamburg. "Patrick has been able to gather interesting experiences during his career which we have talked about on a number of occasions. I always think it's important to be open to learn things from other sports, something that the coaching staff also share," said Boldt.
Esume himself was looking forward to the experience. The 46-year-old, born in the Eimsbüttel suburb around 5 kilometres away from the Volksparkstadion, gained notoriety playing for various American football sides in Hamburg, as well as winning the European Championship as manager of the French national team. As a presenter on Pro7Maxx's coverage of the NFL, Esume is well known to sports fan in Germany.