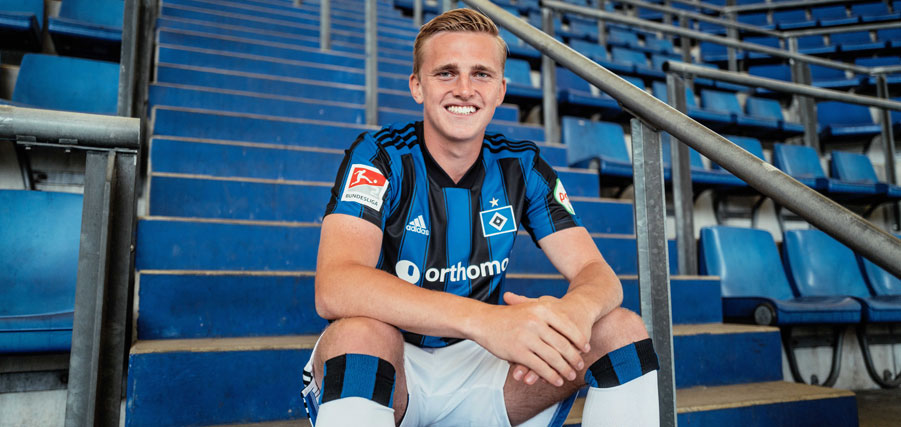 Colours of our Logo: This is the new away kit 2021/22
On foreign turf in our club colours: The new blue, white and black away kit for the 2021/22 season is now available. Just like the matching shorts and socks.
This is more than just a jersey. This is the Colours of our Raute.
It took a little while, but now it's here: Our new away outfit for the 2021/22 season! The centrepiece of the new look is the striking black and blue striped jersey with accents in white. A true homage to our three club colours, which can be found throughout the kit: In addition to the already blue, white and black away kit, the Red Shorts will also wear white shorts with black stripes and special white socks with the traditional "railway barriers" in black and blue at the cuffs.
The HSV professionals will present the new away kit for the first time on the pitch at the Voith Arena tomorrow, Saturday, in the match against 1. FC Heidenheim (22 August, kick-off: 13.30).
For all HSV fans, the new away kit is now available in the HSV-Onlineshop and in the four HSV-Fanshops in Hamburg - but initially in a limited edition. Further quantities are currently being finished by our kit supplier adidas and will also be available soon.
So: If you want to secure one of the first away jerseys 2021/22, you should be quick. If the jersey in the desired size is temporarily not available in the HSV shops, you can pre-order the item in the HSV online shop. It will then be delivered to you as soon as the next batch of away jerseys arrives. This is expected to happen in mid-October.
Especially: The matching away shorts and the blue-white-black socks can also be purchased online and in the HSV shops this season.