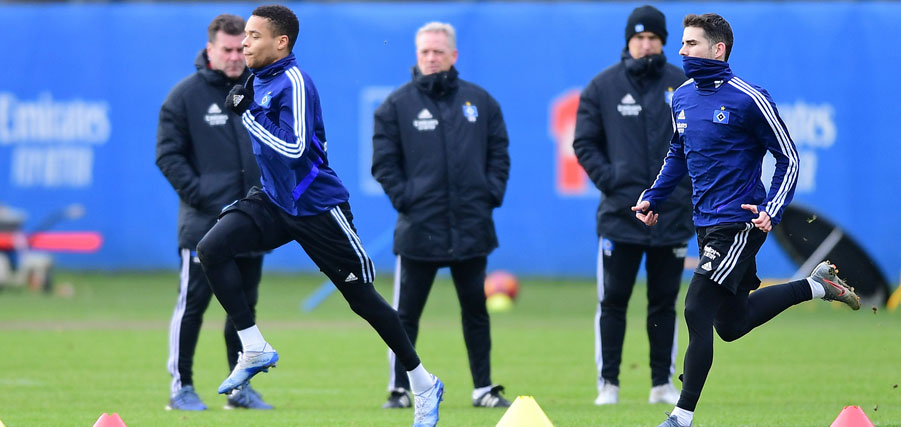 Derby preparation in full swing
After two days of rest, training began again on Tuesday, with the focus on the derby with St. Pauli on Saturday.
After HSV manager Dieter Hecking gave his charges Monday off, the preparations for Saturday's derby with St. Pauli started in earnest on Tuesday with a double shift at the Volkspark. The morning session was dedicated to strength and conditioning, with some positive news for the team as Jan Gyamerah was able to train with his teammates for the first time since breaking his fibula in September. After lunch, the spectators were able to witness another comeback, as Josha Vagnoman was able to run outside for the first time since breaking tarsal bones in his foot at the end of October. Whilst the two recovering right-backs continued their rehabilitation, the current HSV right back Jordan Beyer, who has started all four games since the Christmas period, was missing from training. "Jordan is ill, he took a break today and probably won't be able to be there tomorrow either," Dieter Hecking explained to the waiting journalists after the session.
Alongside Beyer, Jeremy Dudziak was also missing after partly tearing his MCL in Hannover on Saturday afternoon, and will likely not be on the training pitches for a number of weeks. "We're sorry for Jerry that he's missing," Hecking said, "but I think we are able to react to his injury. We have alternatives but haven't reached a decision just yet on who will play on Saturday." Aaron Hunt, David Kinsombi or "maybe a third candidate" could replace Dudziak in central midfield according to Hecking. But it doesn't matter who replaces the 24-year-old, most important will be how the team plays together, using that chemistry to try and get the win in a particularly special game. Saturday, 1:00pm, a sold-out Volksparkstadion; the anticipation is building.