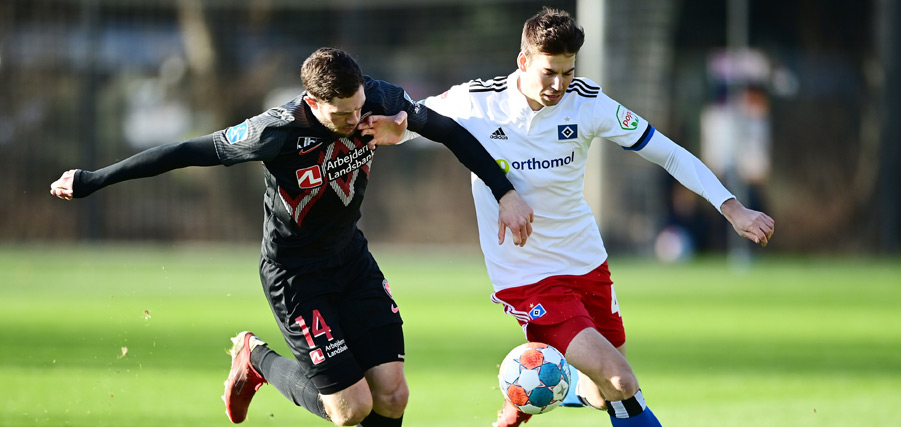 Friendly defeat against FC Midtjylland
Hamburger SV lost a friendly against the Danish champions from 2020 1:5 on Friday. Bakery Jatta scored the Hamburg goal.
Hamburger SV used the match-free weekend for a real endurance test. On Friday (28 February), the Reds played a test match against FC Midtjylland, a Danish first division team and current leader of the Superliga. In the end, Hamburg suffered a 1:5 defeat, which had already been foreshadowed in the first half. Although Bakery Jatta scored on Sonny Kittel's assist to make it 1-1 after just under a quarter of an hour, the Reds went into the break with a clear 1:4 lead after 45 minutes, although Walter's team had set the tone in the meantime. But for the Danes, Sisto and Isaksen had shone with two wonderful long-range shots, Lind also scored from the thick of things and Isaksen was able to take advantage of a failed Johansson defence to score his second goal.
After the break, the match, in which HSV newcomer Giorgi Chakvetadze played his first minutes with the rhombus on his chest and was quite impressive in midfield, was evenly balanced and rarely took place in front of the goals. Jatta had another great opportunity for HSV, while Brumado was able to convert another FCM chance to make the final score 1:5. "We have trained and worked very intensively this week, yet the team played a good game in the first half," analysed HSV coach Tim Walter, "but Midtjylland exploited our mistakes ice-cold, we helped a lot with the goals we conceded." The result was a clear defeat after 90 minutes, with Manuel Wintzheimer (knee) and Jan Gyamerah (adductor) leaving the field early as a precaution. Daniel Heuer Fernandes, Jonas Meffert, Robert Glatzel and David Kinsombi did not play at all. "They got a little break today," explained Walter, "after all, a test match is also there for testing."
Match Summary
Hamburger SV 1st Half: Johansson - Schonlau, Vuskovic, David - Gyamerah, Jatta - Reis, Kittel - Wintzheimer (28. Krahn), Meißner, Kaufmann
Hamburger SV 2. Half: Johansson - David, Vuskovic, Heyer - Gyamerah (58. Alidou), Muheim - Rohr, Krahn - Chakvetadze, Kaufmann, Jatta
Goals: 0:1 Sisto (7), 1:1 Jatta (11.), 1:2 Isaksen (33.), 1:3 Lind (35.), 1:4 Isaksen (38.), 1:5 Brumado (58.)