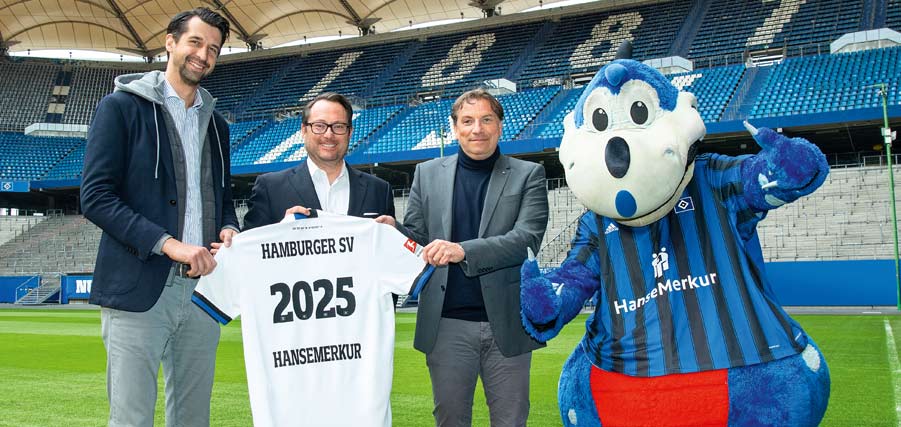 HanseMerkur becomes main partner until 2025
From Hamburg - for HSV. The Hamburg insurance group will adorn the HSV chest from summer onwards, irrespective of the league. Board member Thomas Wüstefeld: "We are very pleased about this Hanseatic connection."
HSV has a new shirt partner. HanseMerkur will replace Orthomol on 1 July 2022 and will adorn the chest of the professionals with its logo until 2025. This is a targeted expansion of the exclusive partnership that has been successfully in place for four years with a focus on promoting young talent and family. "We had constructive talks right from the start and are very pleased about this long-term, Hanseatic connection," says HSV board member Thomas Wüstefeld, who had personally negotiated the details of the cooperation with Eric Bussert, HanseMerkur's holding board member for sales and marketing, in recent weeks. "A Hamburg company on the chest of HSV is a strong sign and underlines the development of this reliable partnership," said Wüstefeld.
Eric Bussert assesses the signing of the contract as consistent and is looking forward to the increased commitment: "With great conviction, we as a traditional Hamburg insurer have continuously expanded our relationship with HSV over the past four years. After having been involved as an exclusive partner, junior partner and partner of the family block, the step to become the main partner is now logical. As part of this, we will implement numerous activities that contribute to the experience of the HanseMerkur brand among fans and customers," says the HanseMerkur CEO: "With the HanseMerkur logo on the jerseys of the Hamburg professionals, I am keeping my fingers crossed for HSV harder than ever for the rest of the season in the league and cup. I am convinced that we will be able to celebrate many more sporting successes together. We are very much looking forward to a great cooperation."
The agreement between HSV and HanseMerkur is valid until 2025 and is league-independent.
About HanseMerkur:

With an annual turnover of 2.6 billion euros (2020), HanseMerkur is the only independent and group-independent insurance group in the Hamburg financial centre. With more than ten million customers, it is one of the largest insurance companies in Germany and is strongly positioned in all lines of its product range. The roots of the 147-year-old personal insurer lie in health insurance, which is still the company's main line of business today. In addition, it is one of the market leaders in tourism insurance in the travel and leisure business segment. HanseMerkur has also been the main sponsor of the German Golf Association since 2021. Further information is available at  www.hansemerkur.de.