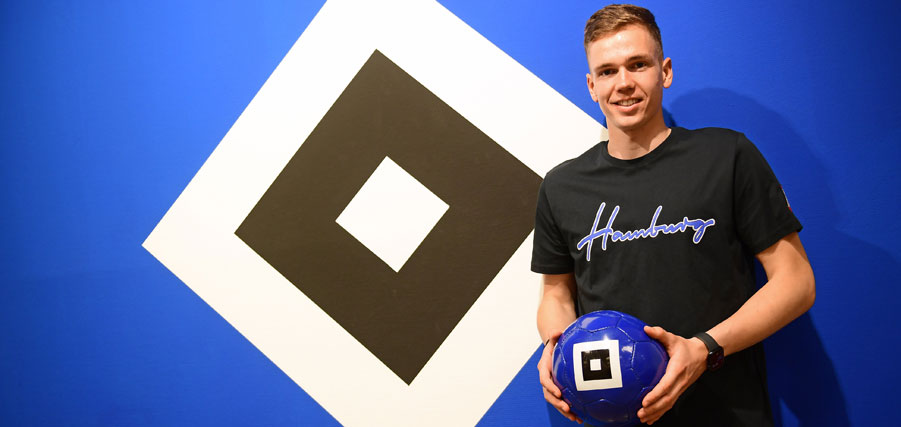 HSV signs Matheo Raab
The 23-year-old Goalkeeper joins HSV on a free transfer from 1.FC Kaiserslautern, who were recently promoted to the 2.Liga, and signs a contract until 2026
The first HSV addition for the new season is Matheo Raab. The goalkeeper joins Hamburg on a free transfer from 1. FC Kaiserslautern, who have been promoted to the second division. The 23-year-old played 34 games for the Palatinate side in the last season, scoring 16 times, and thanks to his strong performances he was a guarantee for promotion to the 2nd division. FCK clinched promotion in the relegation against Dynamo Dresden - Raab also played in both relegation matches without conceding a goal.
"With Matheo, we get a goalkeeper who acts as a team player and is also enormously ambitious and capable of development. He knows the goalkeeper-specific content from our common past and fits very well into our goalkeeper team," says HSV goalkeeper coach Sven Höh, who had already coached Raab in FCK's youth. HSV board member Jonas Boldt is also very pleased about the signing of the young goalkeeper who is capable of development: "We are pleased that Matheo has consciously decided in favour of HSV and that he will once again increase the quality of our goalkeeper team."
"The anticipation is huge!" Matheo Raab
The native of Hesse had successfully completed his medical check at the UKE Athleticum on Thursday (2 June) and subsequently signed his new working paper at the Volksparkstadion, which is dated until 2026. "The talks with those responsible were right from the start and I'm really looking forward to the challenges at HSV," said Raab, who is of course also excited about the reunion with his old and new goalkeeper coach: "Sven Höh brought me to 1. FC Kaiserslautern back then and made me to a large extent who I am now. I'm looking forward to working with him." And so the ambitious keeper is already looking forward to his new task and the start of training full of beans: "The anticipation is huge. The club has the same goals as I do, and I want to play my part." Welcome on board, Matheo!
PROFILE:
Name: Matheo Raab
Birthday: 18. Dezember 1998
Place of Birth: Weilburg
Height: 1,87 Meter
Position: Goalkeeper
Career History: Eintracht Trier (bis 2017), 1. FC Kaiserslautern II (2017-2020), 1. FC Kaiserslautern (2020-2022), Hamburger SV (seit 2022)