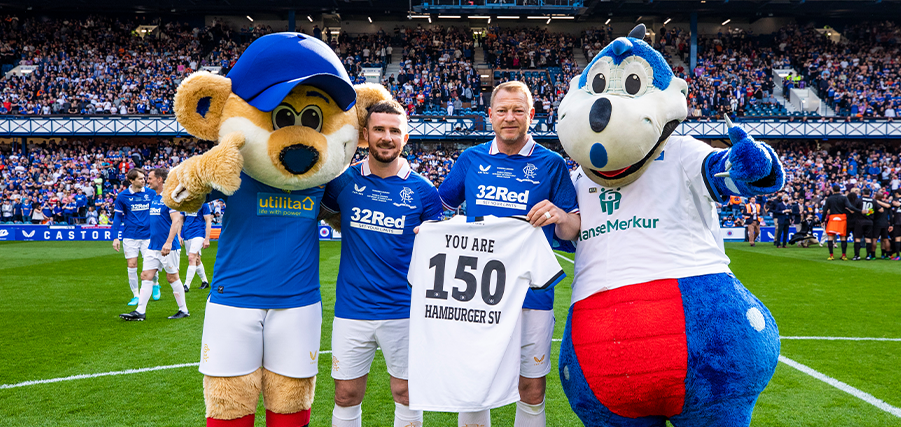 HSV visit Rangers 150th Anniversary Match of Legends
Our club partners celebrated their 150th anniversary with a match of world football legends as HSV and Dino Herrmann paid Ibrox a visit.
HSV and Rangers made their club partnership official in February 2021 following decades of connection created by the passion from the fans of both clubs. Since then, there has been Official Fan Talks and Online quizzes led by the man who connects both clubs Jörg 'Ali' Albertz. However, due to the Covid Pandemic over the course of the past two years, it has been difficult to create events or exchanges between the clubs, until last weekend.
Rangers FC have celebrated throughout the month of March 2022 their 150th Anniversary as a football club, the first major European team to do so, with a variety of events spread across the month. To cap of the end of a celebratory month, Ibrox hosted a legends match. A team of Rangers Legends played against a team of World Legends chosen by Luis Figo on the 26th March 2022. To show our appreciation for a momentous landmark in our partners history. HSV paid tribute with a few gifts and even a Dino Herrmann appearance in Glasgow!

---
HSV Supporters Club - Glasgow Central Station

Supporters were at the very heart of this partnership, from as early as the 1970s both sets of fans have traveled and admired each other's clubs from a far. The HSV Supporters club took such an occasion to share their congratulations on the anniversary. High above Glasgow Central Train Station in the centre of the Scottish City, a banner was revealed on the advertising boards reading. "We Love You Rangers. Happy Anniversary from 66,000 friends at HSV Supporters Club." The Supporters club would also host a party at the Tankstelle in Hamburg later that evening. From HSV supports to the Rangers Supporters.
---
Dino Herrmann meets Jörg Albertz at Ibrox

For the first time since the partnership began, a proper in-person meeting was allowed to take place following two years of the Corona Pandemic. With the 150th anniversary being a very special occasion, who better to fly over to present our gifts than Dino Herrmann and Jörg Albertz.
The day started with Dino meeting many Rangers fans in the City Centre during the morning of the game before setting sights on Ibrox stadium. Before any gifts were exchanged, Dino Herrmann along with new friend Broxi Bear (pictured left) were set up at the Fan village where Rangers Fans of all ages came to take pictures and meet the HSV mascot (a few HSV shirts were on show!) . A very busy afternoon for Dino led him walking around the Ibrox pitch, again meeting with delighted fans and even taking his own seat in the famous Ibrox stands.
The main reason for Dino being in Glasgow was to present Rangers with a gift. To help Dino do this, HSV and Rangers legends Jörg 'Ali' Albertz would hand over a shirt signed with "You are 150" to Former Rangers Captain and Legend Barry Ferguson (Main Picture Above).
More commonly known as the Hammer, Albertz was part of the Rangers Legends squad for the afternoon and acted as the resident HSV representative for an exciting match that included the likes of Kaka, Luis Figo, Paul Gascoigne and Gheorghe Hagi just to name a few!
---
Happy Anniversary! You are 150!
A wonderful occasion to celebrate our partner's 150th Anniversary. You can read more about the history of our partnership here. HSV will celebrate the Anniversary during our next home game vs Paderborn (02.03.22) at the Volksparkstadion. This was due to take place at our match vs Erzgerbirge Aue before it was postponed.
A huge thank you to Rangers Football Club and the fans for making HSV and Dino Herrmann feel very welcome in Scotland and hopefully it's not too long before the clubs meet again.

Happy Anniversary Rangers! #YouAre150