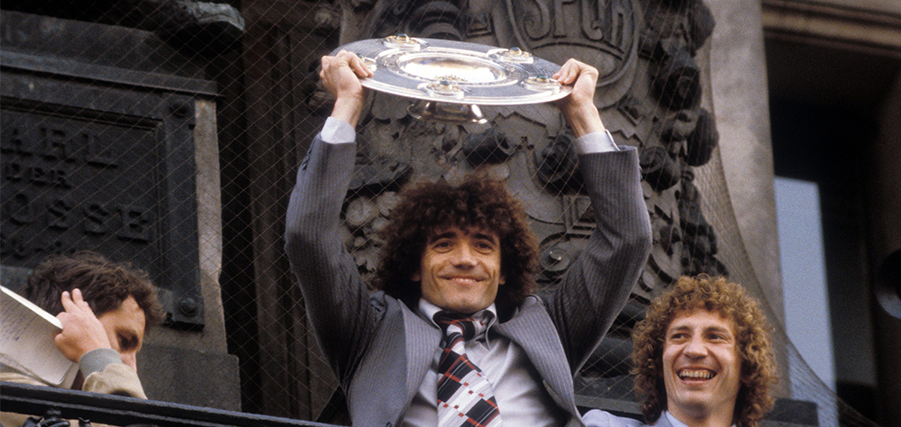 King Kev – A HSV Legend.
Happy Birthday Kevin Keegan! Our Forward, Our Legend, Our Winner. King Kev celebrates his 71st Birthday today (14th February).

A fitting day for someone special to celebrate their Birthday. On a day where love takes the limelight, the 14th of February is also a special day for all invoved in HSV. Kevin Keegan was loved by many in the Hanseatic City of Hamburg and celebrates his 71st Birthday today.
Kevin Keegan, like many after him, made the journey from the British Isles to Hamburg to ply his trade at the Volksparkstadion. He already arrvied as a winner, HSV paid a handsome sum of 3,2 Million Deutsche Mark to sign the forward from Liverpool FC, the reigning Champions of England.
But what gave him the Legendary status that makes King Kev so beloved in this city?
---
Ballon D'or Brace:

Despite being recognized as one of the greatest team players in the impressive HSV squads of the late 1970s, the personal accomplishments won by Keegan truly showed his individual quality.
Keegan shone in the north of Germany and celebrated the accolades to prove it. In 1978, he picked up the prestigious Ballon D'or for the first time. He finished ahead of the likes of Austrian Midfielder Hans Krankl and Dutch Striker Rob Rensenbrink. Worth Mentioning that he was absent from the 2 months of 1978 and played his first competive game in March! Keegan became only the third English player to win the accolade of Europe's top player and the first and only HSV player to do so.
But Keegan didn't stop there. A momentous 1979 in which he won the German Championship with HSV, Keegan grabbed the most impressive brace of his career. Becoming not only the second player to ever win the trophy back-to-back but the first Englishman and HSV player to do so as well. Ahead of Karl-Heinz Rummenigge who would go on to win in the following two years.
Danish Borussia Monchengladbach player Allan Simonsen's win in 1977 just denied the England striker a Hat Tick of wins. HSV had themselves a World Class and award winning player.

---
A German Champion:

Moving on from the individual awards. As a team, HSV enjoyed a very successful period while Keegan graced the Voksparkstadion turf. German Champions in 1979 for the fourth time in their History and no doubt Keegan played a massive roll in making this happen.
The Englishman was ever present in the HSV starting eleven and would go on to make 34 from 34 appearances in the league. In fact, Keegan would only be off the pitch for a total of four minutes for the entire season! We'll call that a well earned rest in the 2-0 victory over Eintracht Braunschwieg on Matchday 28.
Starting every game is as impressive as it gets, but what did Keegan contribute to this title winning season?
17 goals and two assists put him fourth in the goalscoring table as he hit the most goals wearing Rothosen that season, Horst Hrubesch close behind on 14 goals.
---
Legendary Status:

Recognised as one of the best foreign players to wear the famous Red Shorts. Kevin Keegan, AKA King Kev or the Mighty Mouse, put his name on the hearts and memories of all HSV Fans of that era and will long be remembered for his accomplishments in Germany.
Domestically it couldn't have been much better. A very respectable return of 90 Bundesliga Appearances with 32 Goals and eight DFB Pokal Appearances with four Goals.
On the Continental stage, Keegan was very close to adding another European Trophy to his and HSV's Cabinet with the European Cup in 1980. Overcoming Valur Reykjavík, Dinamo Tiflis, Hajduk Split and Real Madrid before facing another European Powerhouse of the that era in Nottingham Forrest. A 5-1 victory in the second leg, salvaged a place in the final over the Spanish giants Real Madrid.
A 1-0 defeat in the final against the reigning champions from his homeland denied a prestigious European trophy for King Kev in Hamburg but there is no taking away form his Legendary status on the Elbe.

Kevin Keegan had a special career, all of his accomplishments at Liverpool whilst being loved during his time at Newcastle United but the footprint he left in Hamburg will last forever. A true HSV Legend.