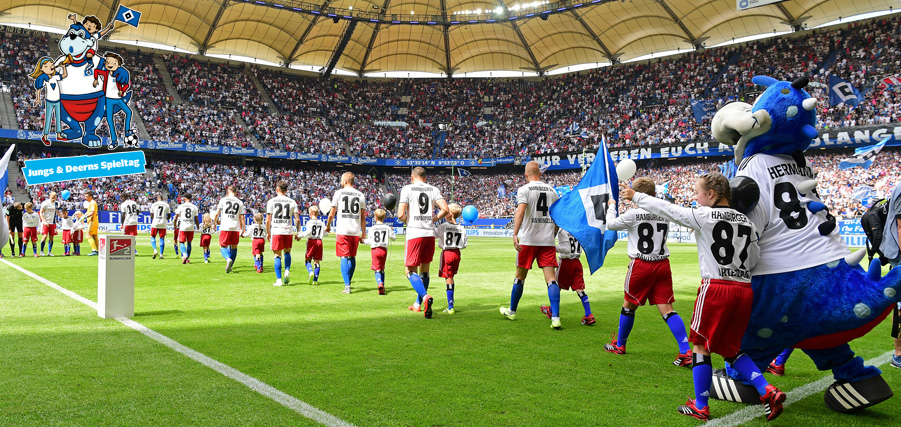 Fun for all the family against Aue
As part of the 'Jungs & Deerns' day against Aue on Sunday there is a range of activities for children and their parents to get involved with.
On Sunday (22nd September) FC Erzgebirge Aue are the visitors to the Volksparkstadion as part of the 7th Matchday of Bundesliga 2. As part of International Children's Day this coming Friday, the home game against the Violets has been turned into a day designed for the younger HSV fans, namely the 'Jungs & Deerns' matchday, with Jungs being boys and Deerns a northern German term for girls.
As part of the campaign, the whole of the South Stand will be turned into an XXL family block, with tickets for children available from €10 in the whole stand, which can be bought in advance here. During the half-time interval Dino Hermann will don his goalkeeping gloves and try to save some penalties from a number of children who have the opportunity to score in front of the famous Nordtribüne. Stadium announcers Dirk Böge and Philipp Langer will also be supported by a new presenter from the HSV kids club, who will help guide the fans through the afternoon's entertainment.
When the stadium doors open at 11:30 there are a number of activities planned for the young HSVer, with face painting, table football or autographs with a member of the HSV first team. Dino Hermann will also be available for photo opportunities with his young admirers. Information about the HSV Kids Club as well as how to get a free 'Kids von der Elbe' scarf will be available at the various information stands dotted around the stadium.