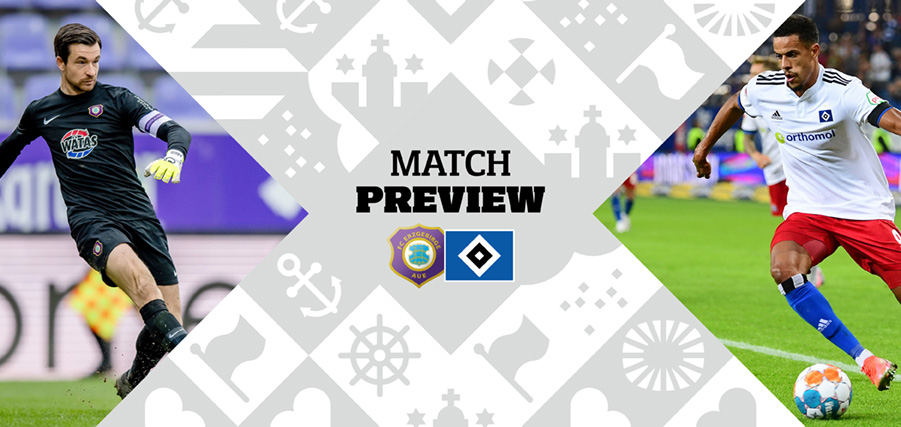 Match Preview Vs Erzgebirge Aue
Sachsen awaits as we are in Friday night floodlit action vs bottom of the league Erzgebirge Aue. A side that recently changed their manager and fell to a dramatic last minute loss to Jahn Regensburg, while HSV continued their unbeaten home form with a stalemate against 1.FC Nürnberg.
It's eight without a victory this season for the Sachsen based side which eventually led to the recent departure of young Head Coach Aleksey Shpilveski. This winless run has been capped off with recent defeats to SC Paderborn and Jahn Regensburg. A late goal last weekend cost the side a valuable poin as they are the current occupants at the foot of the table.
The good form feeling stays with HSV as they remain unbeaten at the Volksparkstadion so far this season. Its now a run of only one defeat in eight for Tim Walter's side as they edge to some consistency in their performances. Another eventful goalfest draw was played out on Sunday when 1.FC Nürnberg travelled north. Young Croat Mario Vuskovic made his starting debut in HSV colours and Robert Glatzel bagged himself a brace. The number 9 marking his fifth league goal of the campaign, a promising number this early in the season.
---
Opponents Focus:
Aue, sitting bottom of the 2.Bundesliga, have experienced a busy few weeks after former Head Coach Aleksey Shpilevski was released from his duties following a run of 8 2.Liga games without a win this season. The returning Marc Hensel, who is now on his third stint in interm charge of the club, has returned on the temporary basis once again before the Sachsen side make their long term decision.
Aue are on the back of five straights defeats after a promising opening three draws to begin the season. Last time out they suffered that last minute defeat 3-2 to table toppers Jahn Regensburg in which they equalised on the 88th minute to bring the score level at 2-2. An eventful game Friday night which for the neutrals would have been very entertaining.
---
HSV News:
The usual suspects of Tom Mickel, Stephan Ambrosius and Josha Vagnoman with Maxi Rohr staying in the physio room. Mikkel Kaufmann was back training this week and could be back in contention for the matchday squad after missing out on Sundays draw.
Head Coach Tim Walter will have the returning Sebastian Schonlau back in his squad following the captains one match suspension. This return could give the Head Coach a headache with positive connotations for his selection. A fairly young duo of Jonas David and Mario Vuskovic looked calm and composed as the game grew vs Nürnberg, which could give Walter some thinking to do before Friday night. Walter commented about this in the recent Press Conference ahead of the game saying "Bascho is our captain and we are happy that he will return. But it should also be said that Mario replaced him outstandingly last week."

---
Match Facts:
Almost flawless overall record
In the long club history of Hamburger SV (yesterday marked its 134th birthday), seven competitive matches have been played against FC Erzgebirge Aue so far. The first encounter took place in August 2000, then in the 1st round of the DFB Cup. Goal scorers Marcel Ketelaer, Mehdi Mahdavikia and Marek Heinz ensured a clear 3:0 victory. The six 2. Bundesliga battles (since 2018/19) were also mostly brought to a successful conclusion: Three wins and two draws compare to one defeat at the Erzgebirgsstadion (29 February 2020, 0:3), which, however, caused as much annoyance in the HSV camp as the last appearance in Aue so far (5 February 2021, 3:3 after leading 3:1).
Duel of opposites
The statistics look promising: While FC Erzgebirge Aue have scored the fewest goals league-wide after eight matchdays (five), only four teams have more on their account than HSV (14). In addition, the Red Shorts have created twice as many chances as the hosts tomorrow (14:7). Coach Walter's team is also ahead in terms of goals scored: every 8.6 shots on goal are put into the net (6th place in the league), while the Erzgebirge team needs 21 attempts to score (worst value). Caution is advised, however, when making substitutions: Three joker goals by the Veilchen are only surpassed by Holstein Kiel (four).
Goal scorer against record goalkeeper
This will be an exciting duel: On Friday, HSV goal scorer Robert Glatzel, who already has six goals to his name after nine Rothosen matches, will face Aue record keeper Martin Männel. The FCE goalkeeper has made 439 appearances for the Veilchen since the summer of 2008, making him the player with the most appearances in the club's history. "Bobby" Glatzel is in great form after scoring two goals in the home match against 1. FC Nürnberg (26 September, 2:2), but on the other hand the "Buffon of the Erzgebirge" has also been one of the best goalkeepers in the 2nd Bundesliga for years.
---
Where can I watch the Game?
Austria - Sky Sport Bundesliga 1, Sky Go, Sky Sport Bundesliga 3
Brazil - One Football
Denmark - Viaplay Denmark
Estonia - Viaplay Estonia
Finland - Elisa Viihde Viaplay
Hungary - Spíler1
Iceland - Viaplay Iceland
Kosovo - IPKO TVim
Latvia - Viaplay Latvia
Lithuania - Viaplay Lithuania
Norway - Viaplay Norway
Sweden - Viaplay Sweden
Switzerland - Sky Sport Bundesliga 1, Sky Sport Bundesliga 3
Turkey - beIN CONNECT Turkey, Tivibu Spor 3