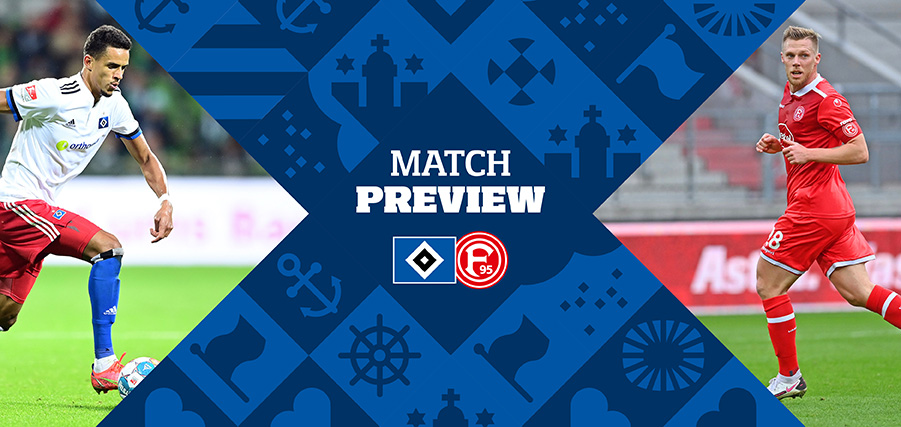 Match Preview Vs Fortuna Düsseldorf
Fortuna Düsseldorf visit the Volksparkstadion on Saturday night for what could be a special topspiel as we will welcome our biggest crowd back home since the corona Pandemic began.
The floodlights will be on as we host another Saturday night 2.Bundesliga Topspiel match. This time the Rheinlanders from Düsseldorf will make the journey north in a highly anticipated fixture due to the off the park news. More than 35,000 tickets have been purchased as the Volksparkstadion will achieve its highest attendance since the Pandemic began back in early 2020.
HSV are on a six match unbeaten run following the away draw in Aue before the International break and are also still unbeaten on our home turf. Last time it was a tough watch but the point was secured in Sachsen keeping our unbeaten streak alive. A calamitous game in terms of goals, Tommy Doyle made his debut and gave a helping hand in the late equaliser that was put into his own net by Aue defender Dirk Carlson.
---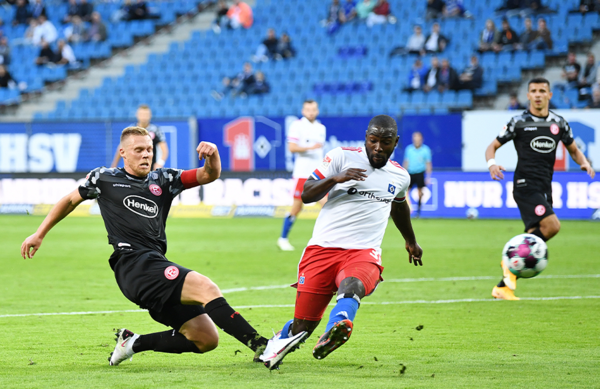 Opponents Focus:
Fortuna are yet to quite get their season underway and currently occupy the 12th position in the 2.Bundesliga table. Following their opening day win against Sandhausen, Die Flingeraner failed to win their next 4 matches. Results had picked up after this with wins over Aue and Ingolstadt and impressive draw against high flying Jahn Regensburg. Last time out a thrilling game against Paderborn ended in a late defeat after a Rouwen Hennings double gave Fortuna the lead on the hour.
Christian Preußner is still new in the job though, the former Rot Weiß Erfurt Head coach into the post after a successful season in the Regionalliga Südwest with the SC Freiburg II winning the league during the corona ridden season. So far Preußner has implemented a very attacking style which sees Düsseldorf top the shooting table and utlising the likes of top goalscorer Hennings and former HSVer Khaled Narey.
---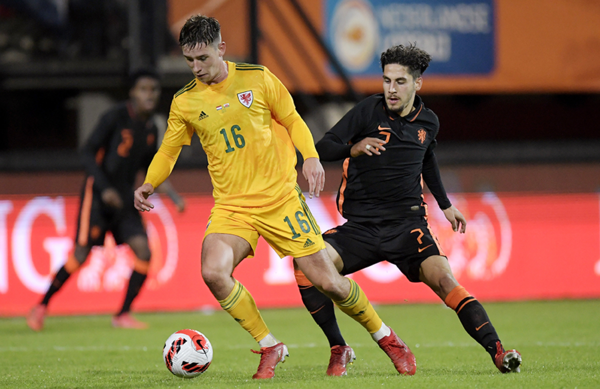 HSV News
After a successful few trips with their international U21 sides, Tommy Doyle, Ludovit Reis, Mikkel Kaufmann, Anssi Suhonen and Mario Vuskovic all returned to training in the latter end of the training week. Head Coach Tim Walter stated that although the players returned back tired, they were all in great condition. That meaning Tom Mickel, Stephan Ambrosius and Josha Vagnoman and Maxi Rohr continue to be unavailable.
The main excitement ahead of this weekend Topspiel fixture against Die Flingeraner is the guaranteed highest attendance since the Pandemic began. As of Wednesday the sales figures were well over the 30,000 mark. Walter alluded to the importance of having our fans back in the Stadium in Thursday Press Conference. "We are looking forward to the many spectators, the backdrop will be impressive for some of my players, as they have never experienced such a crowd here in the Volksparkstadion this season or last season. I myself haven't experienced it like this as an HSV coach. But I am convinced that the fans and their support will inspire us and that we can manage to bring the spectators with us again. That's what we're hoping for, because HSV home games should be fun and a real event, and that's what we're giving everything for."
---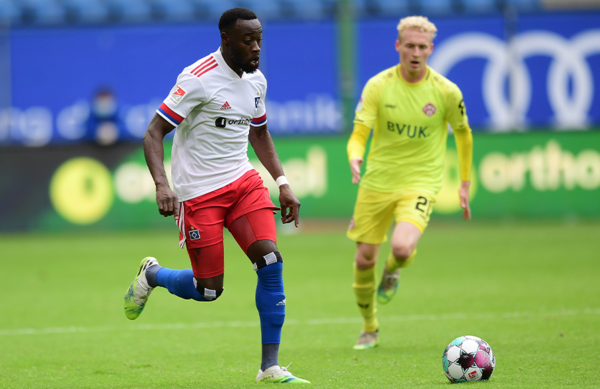 The Match Facts

Positive overall record

Hamburger SV and Fortuna Düsseldorf will meet on Saturday for the 49th time since the Bundesliga was founded in 1963. The record so far is clearly in favour of HSV: 22 wins and 13 draws and defeats each, with a goal difference of 85:65. Last season there was a 2-1 home win in the Volksparkstadion and a 0-0 draw in Düsseldorf - at the same time the only two 2.Bundesliga meetings.

Special home setting
For the first time since the start of the Corona pandemic in March 2020, there will be more than 30,000 spectators in the Volksparkstadion for the HSV home match. The new 2G conditions make it possible for standing room, no masks and no distance requirement and the selling of alcohol. With more than 30,000 fans behind them, HSV will be looking for their second home win of the season. So far, the Red Shorts are still unbeaten at Volkspark, but in contrast to their 2-1 win over Sandhausen, they had to settle for a point in each of their duels with Dresden (1-1), Darmstadt and Nuremberg (both 2-2).

Narey as returnee
The 27-year-old new signing has settled in well with his new team not far from his Leverkusen home: The German-Togolese has already scored two goals and six assists, giving him eight points in nine games. On Saturday, "Kalle" returns to his old stomping ground. In the past three seasons, he played 85 competitive games (eleven goals, nine assists) for the Rothosen - more than for any other club in his professional career to date.

---
Where can I watch the Game?
Austria - Sky Sport Bundesliga 2, Sky Go
Brazil - Onefootball
Bulgaria - Play Diema Xtra, Diema Sport 3
Cyprus - Nova Sports 3 Cyprus
Denmark - TV3 Sport, Viaplay Denmark
Estonia - Viaplay Estonia
Finland - Elisa Viihde Viaplay
Greece - Nova Sports 3
Iceland - Viaplay Iceland
Israel - Sport 3
Lithuania - Viaplay Lithuania
Norway - Viaplay Norway, V Sport 1
Portugal - Eleven Sports 4 Portugal
Russia - matchtv.ru
Slovenia - ŠTV 1
Sweden - Viaplay Sweden
Switzerland - Sky Sport Bundesliga 2
Turkey - beIN Sports 3 Turkey, beIN CONNECT Turkey
Ukraine - Сетанта Спорт3