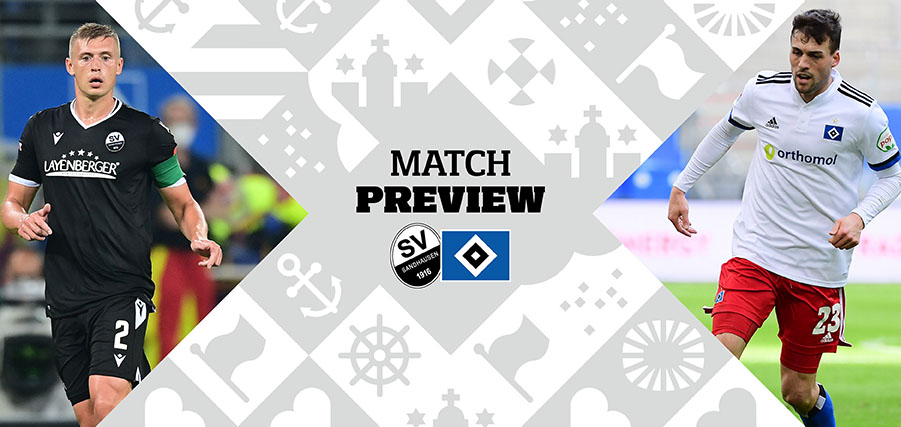 Match Preview vs Sandhausen
After three wins in a row, HSV are back in business with a difficult away trip to SV Sandhausen.
SV Sandhausen is always a very tough opponent and can only made more difficult when playing on their own turf. An away trip to Baden-Württemberg calls for HSV this Saturday as the fine form is hoped to be continued.
Last weekend's 2-0 win over Heidenheim could prove to be an important win come the end of the season but that also makes trips like these after a promising result, ever as important.
Unbeaten in 4 Sandhausen may have lost at the Volksparkstadion already this season, but it was a mighty task to earn the three points thanks to Mo Heyer's late winner. A tense and exciting event is sure to unfold on Saturday afternoon.

---
Opponents Focus:
Our hosts sit in a more comfortable situation compared to the last time we played them in the first half of the season. Unbeaten in four for the side from Baden – Württemberg who are hoping to escape from that relegation battle with the bottom sides.
Sitting in 15th place above the relegation play off place, where the finished last season, and the prospective to move up to 12th with a win at the weekend. A side that will be hoping to bring their good form in to bring down another good team in form as HSV.
From the HSV 2-1 victory a lot has, their co-trainers have departed and Alois Schwartz took over in late September. Following the Winter Transfer period, Schwartz brought in no more than eight new players including former Schalke Youth start Ahmed Kutucu, who is yet to score in his first three appearances.
---
HSV News:

Sadly it looks increasingly likely Hero from the first game against Sandhausen this season is a doubt for Saturday. During the Press Conference Head Coach Tim Walter spoke over this situation, "Moritz Heyer is injured, he has knee problems and we have to wait and see how he is doing. But apart from that, this is not the time to spare anyone, but to send everyone into the race who is available."
After four matches unbeaten and three wins on the bounce confidence is high within the HSV camp but that certainly wont was Walter and his side ahead of the task in hand. "Anyone who has ever been to the Hardtwaldstadion in Sandhausen knows how difficult it is to play there and what to expect in this tight stadium: a heated atmosphere, lots of long balls and endless duels. We have to accept all that 100 per cent, invest everything and be ready to work hard. Only then can we reward ourselves."
---
The Match Facts :

Three wins in a row for the first time

Hamburger SV have won three games in a row for the first time this season. Walter's team won the top matches against St. Pauli (2:1), Darmstadt (5:0) and Heidenheim (2:0). In addition, the Red Shorts are unbeaten for six games (four wins, two draws) and have lost only two of 22 point matches in the 2021/22 season - more rarely than any other team in German professional football.
Best defence in the league

HSV, which stands for bold offensive football under Tim Walter, has the best defence in the 2nd division. The current 20 goals conceded in 22 games are seven fewer than any other team in the 2nd Bundesliga. Most recently, HSV keeper Daniel Heuer Fernandes and his front men kept a clean sheet twice in a row. As is well known, a good defence forms the foundation for a successful season - in nine of the last ten Zweitliga seasons, the best defence ended up in the top 3 - only Sandhausen did not in the 2017/18 season.

Kilometre-eater
Once christened "Meffo, the mile-maker" by the Kieler News, six-pointer Jonas Meffert has been living up to that name this season, even as an HSVer: The 27-year-old has covered 240.9 kilometres (10.95 km per game) so far. No other player in the Rothosen team runs more. In addition, Meffert ranks 7th in the league-wide running statistics. By comparison, Sandhausen's strongest running player, centre-back Aleksandr Zhirov, ranks 37th with 208.2 kilometres covered.

---
Where can I watch the Game?
Brazil – Onefootball
Denmark - Viaplay Denmark, TV3 Sport
Estonia - Viaplay Estonia
Finland - Elisa Viihde Viaplay
Iceland - Viaplay Iceland
Israel -Sport 3
Latvia - Viaplay Latvia
Lithuania - Viaplay Lithuania
Norway - V Sport+, Viaplay Norway
Poland - Viaplay Poland
Portugal - Eleven Sports 4 Portugal
Romania - Digi Sport 4 Romania, Digi Online
Russia - matchtv.ru, Sportbox.ru, Матч! Футбол 3
Swedend - Viaplay Sweden
Turkey - beIN Sports 4 Turkey, Tivibu Spor 4, beIN CONNECT Turkey