More than 100,000 euros support for Ukraine
HSV shareholder AMPri is making a maximum commitment to the "All-Stars for Ukraine" benefit event on 28 May in the Volksparkstadion: meaningful donations in kind for the war zone and invitations for refugees and escorts.
The charity event "All-Stars for Ukraine" on 28 May in the Volksparkstadion is getting closer, the encouragement of many celebrities and helpers is growing steadily. HSV shareholder AMPri was among the first to pledge its immediate support. "We think the campaign is great and want to make our contribution to direct aid in Ukraine," says Thomas Böhme, managing partner of AMPri (on the picture with his colleagues (from left): Ben Peters, Thomas Böhme and Tobias Stahmer. Photo: AMPri/hsv). Together with his management colleagues Tobias Stahmer and Ben Peters, he took a close look at his company's product range in Winsen and put together a large aid package with occupational safety and hygiene products that will soon be transported to Ukraine. The aid package has a total purchase value of 100,000 euros.
"We also want to give refugees and their supporters in Hamburg and the surrounding area the opportunity to take part in this great event," says Thomas Böhme: "To this end, we have bought more than 1,000 tickets from HSV, which will be given to Ukrainians and one accompanying person each free of charge on the day of the event."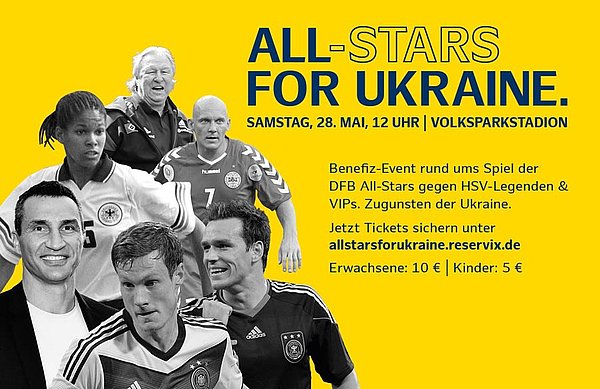 Jonas Boldt is pleased about the shareholder's commitment: "A great action full of conviction that will provide immediate help when implemented so quickly." Parallel to the preparations for the relegation, the HSV board is recruiting further supporters and is pleased to note that the presence of Hamburg's celebrities is also generating more and more pledges. Thus, in addition to many football legends, other well-known stars and starlets will enrich the event on 28 May. Surprise guests have also been announced for the colourful supporting programme. And for the big raffle there are already attractive prizes ranging from trips and books to a Liverpool FC jersey signed by cult coach Jürgen Klopp.
The charity event will be broadcast on TV by NDR on 28 May from 12-14 hrs. Tickets cost 10 euros for adults and 5 euros for children. Tickets are only available online at allstarsforukraine.reservix.de.
The aim is to send as loud and colourful a signal as possible from the city of Hamburg for peace in Ukraine, against war and for the people from and in Ukraine.
For the benefit match, Wladimir Klitschko has a special video message from Kiev for all supporters.