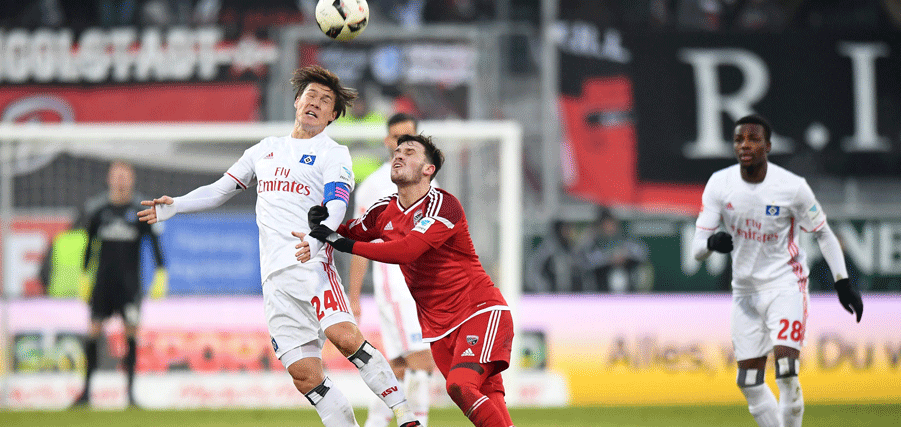 1-3 - HSV lose away to FC Ingolstadt
With a temperature of minus 12 degrees the Rothosen were caught cold, as they lost 1-3 to FC Ingolstadt on Bundesliga matchday on Saturday afternoon (28.01).
HSV tasted bitter defeat on Saturday afternoon, losing 1-3 to fellow relegation-haunted side FC Ingolstadt at the Audi Sportpark. A slightly fortunate strike and a deflected shot (14., 22.) saw the home side 2-0 at the break. The game was as good as over as Cohen made it 3-0 on 47 minutes. Hamburg captain Sakai pulled a goal back with a long distance thunderbolt on 63 minutes but it was too little too late. The defeat sees HSV in second bottom place in the Bundesliga still three points from a relegation play off place. As if the defeat wasn't bitter enough, Hamburg scorer Sakai picked up a fifth booking and will miss the matchday 19 clash at home to Bayer Leverkusen (03.02.17, 8.30 PM) next Friday night through suspension.
Early double whammy...
Visiting coach Markus Gisdol was forced to make changes to the team which unluckily lost 0-1 in Wolfsburg last time out. Regular defensive midfielder Ekdal missed the game through suspension following his dismissal in Wolfsburg and Müller began on the bench at first because of abdominal bruising. His place on the right wing was taken by Waldschmidt while Holt´by took the place of Ekdal in frontof the back line. Gregoritsch slottedin behind the frontline. The visitors made a bright start with the majority of possession and were stronger in the tackle.
HSV failed to capitalise on their early edge and Ingolstadt broke the deadlock through a rocket shot by Groß after 14 minutes. Then Gregoritsch unluckily deflected a Suttner shot past his own keeper to make it 2-0 ot the hosts after 22 minutes. There followed a couple of chances for Wood and Gregoritsch, neither of which were taken. The visitors struggled to fight back and were 0-2 down at halftime.
...dream strike too little too late
Gisdol reacted by bringing on Jung for Waldschmidt and Diekmeier for Ostrzolek. The latter had a nightmare begin as he took the legs from under Groß inside the Hamburg box. The resulting penalty was coolly slotted home by Cohen, putting the game to bed after 47 minutes.
Threegoalsto the good and with three vital points in the bag the home side shut up shop and defended for the whole of the second half. Hamburg pulled a consolation goal back through a fierce effort from distance by skipper Sakai (63.), but the Rothosen and their travelling contingent of travelling faithful knew that was not going to be their day. The visitors tried to up the pressure late on but to no avail. Gisdol and Co. Now focus on the matchday 19 visit of Bayer Leverkusen to the Volksparkstadion in Hamburg next Friday night.
Das Spiel im Stenogramm:
FC Ingolstadt: Hansen - M. Matip, Roger, Bregerie - Hadergjonaj, Suttner - Cohen, Morales - P. Groß (90.+2. Levels), Leckie (43. Jung) - Lezcano (87. Hinterseer)
Hamburger SV: Mathenia - Sakai, Papadopoulos, Mavraj, Douglas Santos - Holtby, Ostrzolek (46. Diekmeier) - Waldschmidt (46. Jung), Gregoritsch (68. Müller), Kostic - Wood
Tore: 1:0 Groß (14.), 2:0 Suttner (22.), 3:0 Cohen (47., FE), 3:1 Sakai (63.)
Zuschauer: 14.549

Schiedsrichter: Markus Schmidt (Stuttgart)
Gelbe Karten: - / Papadopoulos (43.), Sakai (77.)
Gelb-Rote Karten: - / -
Rote Karten: - / -
Match details:
FC Ingolstadt: Hansen - M. Matip, Roger, Bregerie - Hadergjonaj, Suttner - Cohen, Morales - P. Groß (90.+2. Levels), Leckie (43. Jung) - Lezcano (87. Hinterseer)
HSV: Mathenia - Sakai, Papadopoulos, Mavraj, Douglas Santos - Holtby, Ostrzolek (46. Diekmeier) - Waldschmidt (46. Jung), Gregoritsch (68. Müller), Kostic - Wood
Goals: 1:0 Groß (14.), 2:0 Suttner (22.), 3:0 Cohen (47., pen), 3:1 Sakai (63.)
Att: 14.549
Referee: Markus Schmidt (Stuttgart)
Booked: - / Papadopoulos (43.), Sakai (77.)