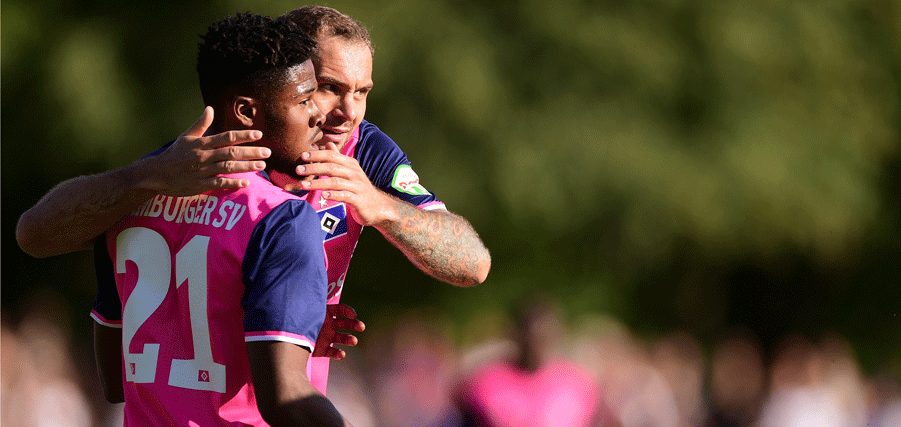 10-0 – Goals aplenty and happy faces all around
IN THE SECOND PRE-SEASON FRIENDLY, HSV BEAT HAMBURG LEAGUE AND CUP WINNERS TUS DASSENDORF 10-0 – LASOGGA, WINTZHEIMER AND JATTA ALL GOT BRACES.
In front of around 3,500 people at the sold out Bergedorfer Stadion Sander Tannen, from the outset it was clear that it would be a tougher test than the one the Rothosen faced five days ago in their 18-0 pre-season friendly win against Büdelsdorfer TSV. TuS Dassendorf have won honours in their region but despite being a harder opponent, HSV dispatched them, running out 10-0 winners, with seven of the goals coming in the second half.
THREE ROTHOSEN BAG DOUBLES
The hosts started courageously but soon fell behind after a double from Pierre-Michel Lasogga (15', 23' pen). Academy player Marco Drawz then increased the HSV lead after half an hour.
The changes were rung at half time and 11 new players started the second half and they ran riot. I just 20 minutes of the second period, they scored six times. New signing Manuel Wintzheimer played a role in most of those goals, as he netted twice and set up both Bakery Jatta, Christoph Moritz whilst forcing a Dassendorf own goal. David Bates, the new signing from Scotland, scored his first HSV goal with a header whilst Jatta put some gloss on the scoreline with the 10th goal. The team signed hundreds of autographs after the game and posed for photos leaving young HSV fans beaming with joy as they set off home. It was a lovely end to a great evening of Hamburg football.
Match stats:

HSV first half: Mickel - Narey, Jung, Ambrosius, Vagnoman - Steinmann - Drawz, Kwarteng, Arp, Ito - Lasogga
HSV second half: Pollersbeck - Knost, Bates, van Drongelen, Santos - Moritz - Jatta, David, Janjicic, Opoku - Wintzheimer
goals: 1:0 Lasogga (15.), 2:0 Lasogga (23., FE), 3:0 Drawz (34.), 4:0 Jatta (66.), 5:0 Warmbier (ET, 69.), 6:0 Moritz (71.), 7:0 Wintzheimer (73.), 8:0 Bates (77.), 9:0 Wintzheimer (85.), 10:0 Jatta (89.)