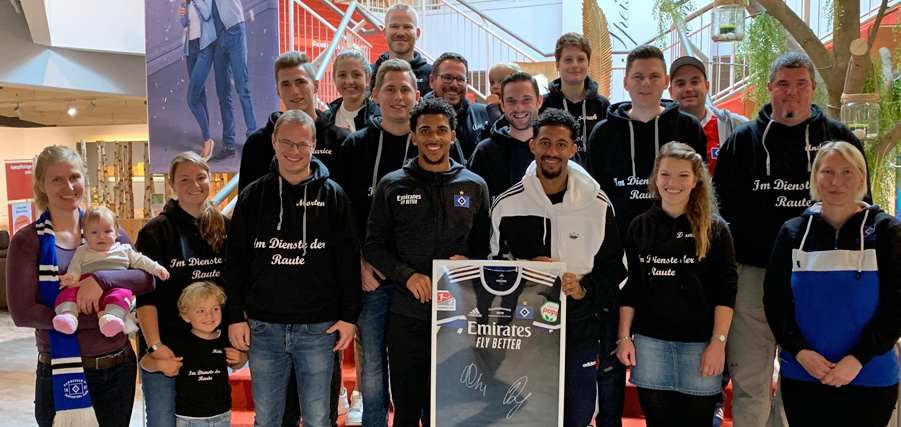 2,800km: HSV players hit the road for fan club visits
After the successful home game against Fürth on Saturday, the HSV players had one more task before the international break got underway, with the traditional visits to the various HSV fan clubs throughout Germany taking place on Sunday.
From Hamburg to Höpfingen via Bargteheide and Bavaria; on Sunday (6th October) the whole HSV squad were at various towns and villages throughout Germany for the traditional meeting with the HSV fan clubs, thanking them for their dedication during the past year.
Some players didn't have far to travel at all – Sonny Kittel had to travel a mere five kilometres to the official fan club in Billstedt, whilst Tim Leibold and Adrian Fein were in Marmstorf, another suburb of Hamburg a stone's throw away from the Volksparkstadion. Some had much further to go, with Lukas Hinterseer stopping off on his way to international duty with Austria in Munich, visiting the 'Isarraute' fan club in the pub that they watch HSV games in every week. The whole squad had put 2,800km on the clock by the end of the weekend to spend time with the HSV fans.
As always, the fan clubs had done their utmost to make the players feel at home, whether that was at their own apartment, restaurant or club house, decking their rooms out with the famous blue, white and black diamond. The homely atmosphere meant that the players and fan club members were able to talk honestly about all things HSV, as well as provide all of the autograph and selfie wishes that the fan club members bestowed upon them, with Lukas Hinterseer also signing the HSV guitar that hangs in the Munich HSV fan club pub. Every player was also able to provide a priceless memento for each fan club, bringing along a signed shirt that will hang proudly in each and every fan club around the country. All in all, a very successful day that will stay long in the memory for both fans and players.