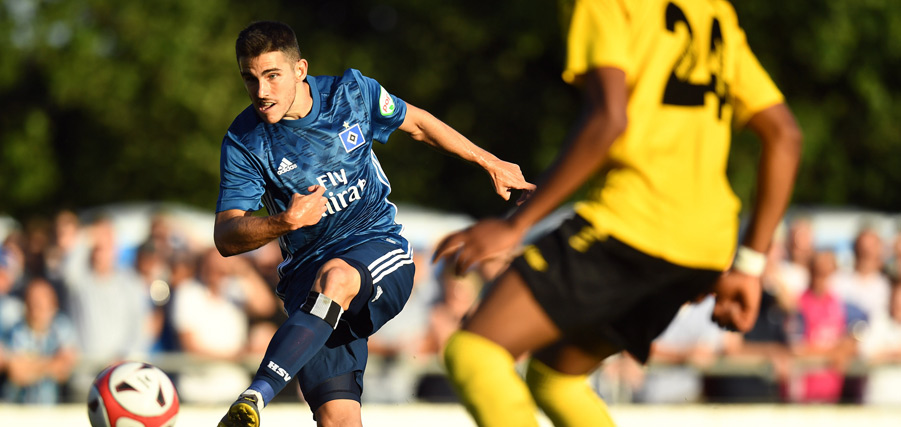 8-0 Hecking wins first game in Meiendorf
Khaled Narey (22') opened the scoring in the first friendly of the season. His goal was followed by goals from: Aaron Hunt (41'), Jairo Samperio (52'/71'), Manuel Wintzheimer (64'/72'), Bakery Jatta (70') and new signing Jeremy Dudziak (89').
Hamburg SV successfully overcame their first friendly of the season. With new head coach Dieter Hecking in the dugout for the first time, HSV beat Meiendorfer SV (Oberliga Hamburg) 8-0. Daniel Heuer Fernandes, Jan Gyamerah, Jeremy Dudziak, Sonny Kittel, David Kinsombi and Adrian Fein all made their debuts for their new club. Christoph Moritz also made his return to HSV (was on loan at Darmstadt) along with Bobby Wood (Hannover 96). Goals were scored by Khaled Narey (22'), Aaron Hunt (41'), Jairo Samperio (52'/71'), Manuel Wintzheimer (64'/72'), Bakery Jatta (70') and Jeremy Dudziak (89').
Good game in prime conditions
North east Hamburg was blessed with perfect weather conditions for the game as die Rothosen began in a 4-3-3 formation. The highly-motivated opponents were able to form some dangerous-looking attacks in the opening phases of the game. However, just on the twenty second minute mark, HSV scored their first goal of the 2019/20 campaign. Some slick build-up play between captain Aaron Hunt and Manuel Wintzheimer resulted in Khaled Narey slotting home at the back post. Following the opening goal, HSV had the wind in their sales and created several goal-scoring opportunities. However, it was a long-range shot from Aaron Hunt that doubled their lead as HSV went 2-0 up just before half-time.
For the second half, Dieter Hecking replaced 10 of his players, with only Wintzheimer staying on the pitch from the first half. However, he was moved from the left wing to striker. From being the spearhead of the attack, the 20-year-old was able to assist the third goal, with Jairo Samperio scoring in the 52nd minute. It was his first goal in over a year following a year out with a knee injury. After the Spaniards goal, it took only 12 minutes before HSV made it four, with Wintzheimer grabbing himself a goal. In the 70th and 71st minute, Wintzheimer turned provider again as he set up both Bakery Jatta and Samperio before one minute later scoring himself and making it 7-0. In front of 2600 spectators, it was new signing Jeremy Dudziak who found himself on the score sheet to make it 8-0, pouncing on a loose ball after the keeper had parried a Douglas Santos effort (89').
After the final whistles, the young fans came in numbers to take pictures and gets autographs from the players. Dieter Hecking spoke about the game and said: "We wanted to go through the gears and create chances, which we did especially well in the second half. We also didn't concede. In conclusion, it was a good start for my team."
Lineup:
HSV: Heuer Fernandes (46' Mickel) – Sakai (46' Gyamerah), Papadopoulos (46' van Drongelen), Jung (46' Moritz), Vagnoman (46' Santos) - David (46' Fein), Kittel (46' Kinsombi), Hunt (46' Dudziak) - Wintzheimer, Wood (46' Samperio), Narey (46' Jatta)
Goals: 0-1 Narey (22'), 0-2 Hunt (41'), 0-3 Samperio (52'), 0-4 Wintzheimer (64'), 0-5 Jatta (70'), 0-6 Samperio (71'), 0-7 Wintzheimer (72'), 0-8 Dudziak (89')