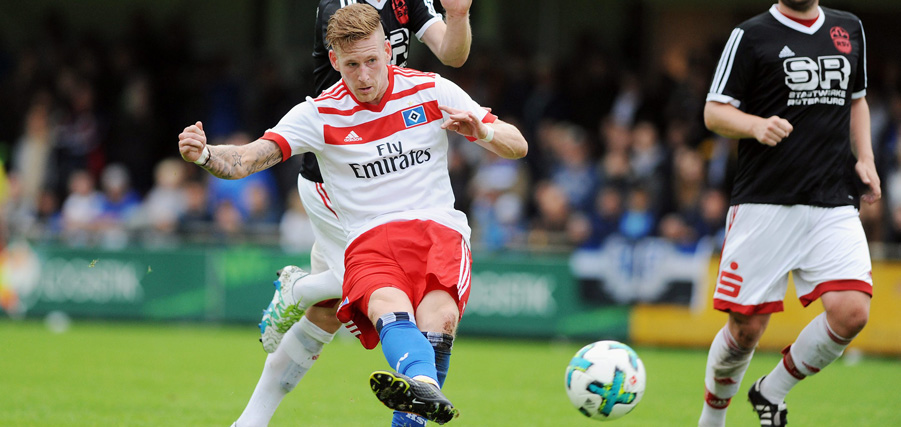 8-0 - HSV win opening friendly
The men on the score sheet against local outfit Rotenburger SV Andre Hahn, Luca Waldschmidt (both two), Nicolai Müller, Bakery Jatta, Sven Schipplock and Pierre-Michel Lasogga.
HSV won the first friendly of the new season at the training camp in Rotenburg on Wednesday night, beating local minnows SV Rotenburg 8-0. Coach Markus Gisdol opted for a 4-4-2 system which included Kyriakos Papadopoulos and new signing Bjarne Thoelke in central defence with Luca Waldschmidt and another new face Andre Hahn up front. The bundesliga visitors used Dennis Diekmeier and Douglas on the flanks. Waldschmidt almost opened the scoring with a crisp shot which struck an upright on 6 minutes. It was Nicolai Müller who opened the floodgates on nine minutes after being found by Bakery Jatta. Goals followed for Hahn (12.) and Jatta (21.) both of which were set up by through balls from Waldschmidt, before Gisdol reverted to a 3-5-2 system. His tem upped the pressure on the amateur home side, scoring three attractive goals before ther break through Waldschmidt (24. and 37.) and again new striker Hahn (36.). Winger Müller could have had a first half hat trick had not a post and home keeper Sebastian Lauridsen not had other ideas.
Second half: Different picture
Gisdol introduced keeper Tom Mickel as well as Jonas Behounek, Finn Porath, Lewis Holtby, Aaron Hunt and Sven Schipplock at the start of the second half making six changes in all. The new look Rothosen struggled to penetrate the massed home defence for long periods, first threatening around the hour mark through chances by Schipplock and Porath (57.). Schipplock missed further chances (63. and 73.) before finally breaking his personal duck on 78 minutes, mopping up the rebound following an efffort from distance from Aaron Hunt. The final goal of the game came two minutes later through Lasogga who netted following a Porath corner to maker it 8-0 in front of 1,300 at the Sportplatz in der Ahe: "It always does a team good to play eleven versus eleven after all the training sessions we have had. It was a pleasant change. We tried two systems – one in each half. We preferred to just allow the lads to play instead of drowning things in tactics", said Gisdol after the final whistle was blown.
Match details:
HSV: Mathenia (46. Mickel) - Diekmeier (46. Behounek), Papadopoulos (65. Knost), Thoelke (46. Hunt), Santos (46. Porath) - Jatta (65. Lasogga), Janjicic, Walace, Müller (46. Holtby) - Waldschmidt (65. Lasogga), Hahn (46. Schipplock).
Goals: 1:0 Müller (9.), 2:0 Hahn (12.), 3:0 Jatta (21.), 4:0 Waldschmidt (24.), 5:0 Hahn (36.), 6:0 Waldschmidt (37.), 7:0 Schipplock (78.), 8:0 Lasogga (80.)