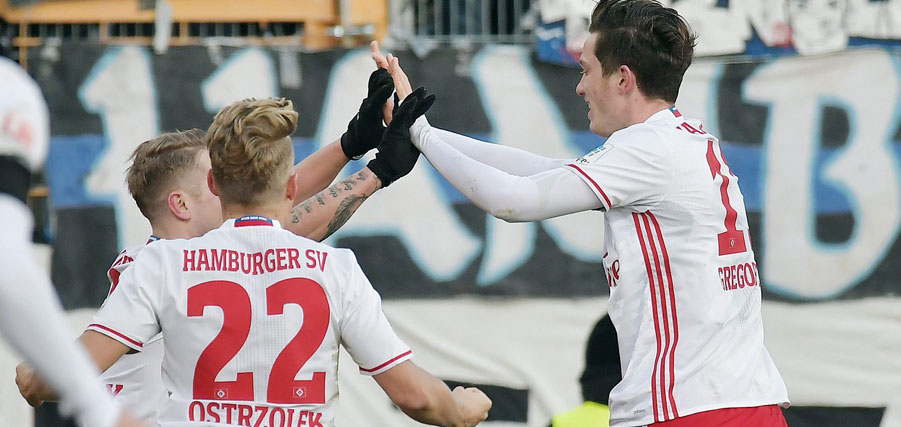 Voices for the Match
04.12.16
"A sign that we are alive and fully there!"
HSV finally won their first league game of the season on Sunday, beating Darmstadt 2-0 away from home. There were some relieved Rothosen as we spoke to them after the game. Read here the post-match reaction.
The first win of the season was a battle of wills. HSV ran five kilometres more than Darmstadt, fought hard in challenges both on the ground as in the air and deservedly scored twice through Michael Gregoritsch (30.) and Matthias Ostrzolek (90.). It goes without saying that the relief at winning the first league game of the season was written all over the faces of the protagonists as we interviewed them following the matchday 14 encounter. This is what they told us.
Gotoku Sakai: It was an intense game. We accepted the challenge and kept a clean sheet. That was a big step and a very important one for the team as a whole. We have to build on it and continue to work well as a team in coming games. We must not look at the Bundesliga table, there is not point in that. Congratulations to Matze (Matthias Ostrzolek) for scoring his first goal. He could have even scored again, but the first effort was on his right foot (laughs).
Matthias Ostrzolek: I have experienced so much and tried lots of things this season – central defence, left back or left midfield. I feel the trust placed in me by the coach in every position he has me play in. That I was able to score today is beyond belief. We have waited long enough for this win and were very close in our previous two games. We are happy today, but are still well aware of our current predicament and that we have a lot of catching up to do. The next three games are critical if we are to go into the winter break in an improved position. We will no longer be allowing ourselves to be influenced by outside matters. We are just focusing on our game and performing as a team!
Michael Gregoritsch: Winning today was very important. Everyone can see that a huge weight has been lifted from us. We have constantly improved in recent weeks and today we finally rewarded ourselves. We played with a lot of heart and passion so we were well worth the win today. Three games unbeaten and finally a win is a sign to the rest of the league that we are very much alive and fully there.
Dietmar Beiersdorfer: Our team were well prepared. It is not easy to play here in Darmstadt. In the end it was a deserved victory, although we should have made it 2-0 earlier than we did. There has been clear improvement in recent matches. We will be happy for a day but remain grounded, because a 7-point tally is nothing to celebrate. We will now prepare for Augsburg as well as possible because the pressure remains. We could only take three points today, we need to take as many points as possible in our next three games.
Markus Gisdol: The team got their just rewards today. It is incredibly important to take on the challenge. The atmosphere here is special and every game has its battles especially in the air. If you can master that you can dictate the game. I think we were well worth our win. The team is taking forward steps, something is happening. But we are at the beginning and have many more steps to take. The lads know that you can only have success as a team. That was visible today in the way we stuck together and the way we ran for each other. Today and tomorrow will be nice days, but then it is time to fully focus on preparing for Augsburg.