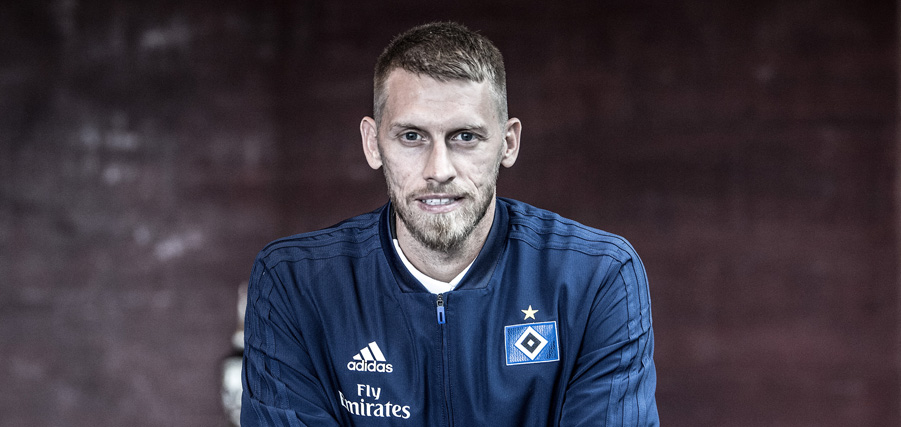 Aaron Hunt: "We want to be known for playing attacking football"
In an interview with hsv.de, Aaron Hunt speaks about his new role as HSV captain, his style of leadership and the new style of the HSV team.
With over 400 appearances at a professional level under his belt, 31-year old midfielder Aaron Hunt is not only the oldest, but also the most experienced player in the HSV squad. It therefore was a fitting decision by the rest of the team to choose him as the club's new captain for the upcoming 2018/19 season. Hunt spoke to HSV.de about the challenges ahead as captain of Hamburger SV.

Aaron, firstly let me say congratulations on being chosen as HSV captain. What does this position mean to you?
Aaron Hunt: I am really chuffed and I am looking forward to the challenge. It means a lot to me because I was elected captain by the rest of the squad which means they must think highly of me as a teammate. We have a lot of young players in the squad who need leadership and guidance. This, alongside with helping some of the older players, will be a very exciting challenge.
Every captain has their own style of leadership. How would you like to lead your team?

I'm not really a loud type of person. I want to be able to get to know and help my fellow teammates by speaking to them all individually. It is particularly important that I do this with the younger players because I have a lot of experience and I can give them a lot of tips to improve. I don't think I will be massively changing my behaviour as captain.

Have you looked up to any former captains in particular?

I've never really looked up to a specific role model but I have met a lot of coaches in my time as a player and learnt how their leadership styles differ. I don't think I want to emulate one person in particular because everyone is different. Some are louder than others, some quieter than others. I will do things my own way to the best of my ability.

What would you like Hamburger SV to be recognised for this season?
We want to be known for playing attacking football. We are focusing on this at the moment in the early weeks of pre-season as we want to develop this playing style further. Next season will be an exciting one, but it will also be a big challenge for us. We want to achieve promotion back to the Bundesliga as quickly as possible.