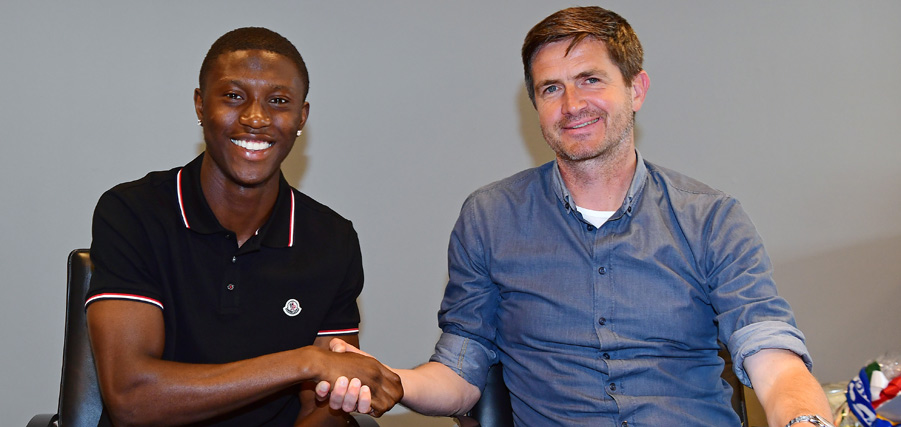 Aaron Opoku signs professional contract at HSV
The 19-year-old, who has been a regular fixture of the HSV youth set up, has extended his deal with HSV and signed until 2021.
Hamburger SV stay true to their roots once again and have secured the services of another one of their own. Aaron Opoku will be another talent to commit himself long term from the HSV youth team. The 19-year-old midfielder, who has also played on the wings, has extended his deal until 2021. His current contract at HSV was due to run out in 2019 and has been upgraded to a professional deal.

Opoku has been at HSV since 2011, and has been a member of the youth teams of the club, playing for the under-19s last season. He scored 15 goals in 22 games in the junior Bundesliga at under-19 level, providing three assists in the process. He also appeared three times at Regionalliga level for the under-21s, notching three goals. Christian Titz is a big admirer of the youngster's abilities, and has already seen him train with the first team. "I am overjoyed to have signed my first ever professional contract. HSV means so much to me. I have given everything in training and in the games to try and reach this goal. I would like to thank my family and my advisors, who have given me the strength and always supported me", said Opoku.
HSV chairman Ralf Becker was also very excited by the new deal. "We are delighted he has signed a new deal. He showed great development in the under-19s last season and we hope that this curve will continue. He is a player with great individual quality, who will quickly adapt to this higher level."