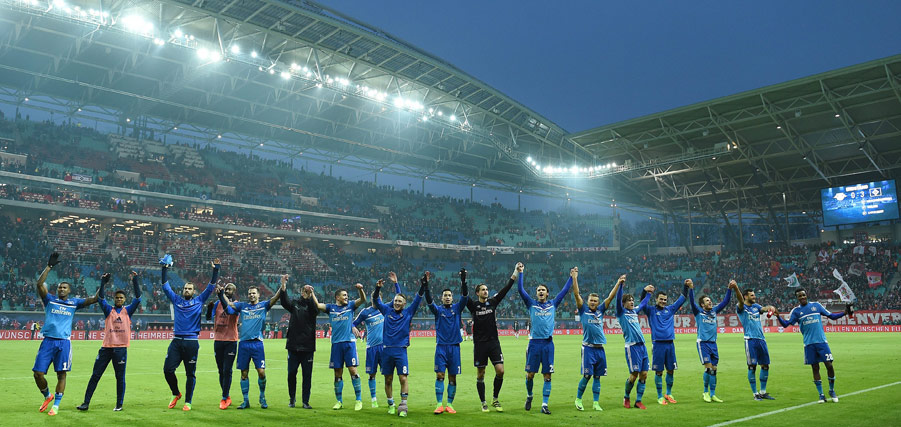 Stimmen zum Spiel
11.02.17
"An excellent team performance"
HSV became the first team to beat RB Leipzig at home on Saturday afternoon after a resounding 3-0 victory on Bundesliga matchday 20. Read here what was said after the game.
What an afternoon in Leipzig: A gritty and determined team performance saw the Rothosen become the first team to win there this season by beating the top two side 3-0 through goals by Kyriakos Papadopoulos, Walace and Aaron Hunt. Over 4,000 fans made the trip east and were richly rewarded by the team's best performance of the season. Here the post-match reaction from the mixed zone inside the RB Arena.
Kyriakos Papadopoulos: Things didn't work out for me in Leipzig, so today was of course a special game for me. I wanted to win and show what I can do. I am delighted that we won and that I scored one of the goals. I am at HSV now and feel right at home. HSV is a super club and we function well as a team with everyone fighting hard for each other. I feel the trust of our coach every day as you could see during my goal celebration. Showing my biceps did not have any particular reason. I just wanted to show that I am a player who can help the team.
Walace: It was a great game and well done to the team! As I scored my header seemed to move in slow motion before hitting the back of the net. It was my first ever headed goal. Of course I am delighted with my start at HSV. I didn't expect it. I was perfectly tactically prepared for the game and indeed for the new experience at HSV. We communicate through gestures and it works well. I must and want to improve every day. The Bundesliga is a much higher level than Brazil. The game here is quicker and much more intense. I have come here to grow as a player.
Rene Adler: We were perfectly prepared for the game. RB Leipzig press in an extreme way so you must not allow them to lure you into their trap. You have to use the space behind their defence which we did very well today. It was about time we scored gfrom corners again. Our stats could not have been any worse. We had luck on our side for a change today. The victories this week boost team confidence and give us the confidence to bang the ball in. Personally it was a speciall day for me playing in my hometown and winning here is just great. We have to carry on the good work and produce this kind of attitude every day!
Nicolai Müller: I can't believe that I set up all three goals, it has never happened before. For me scoring and assisting goals are the same, although you celebrate a bit harder. They are all scorer points. The coach recently asked me if I could take corners and I said why not) They worked out perfectly today and paved the way to victory. It has been a perfect week with three wins and three clean sheets. We are a super team and I am glad that everyone was able to contribute this week.
Bobby Wood: It was a great team performance. We fought superbly and were convincing at set pieces, with Papa and Walace doing a fine job. They bring more quality to the team not only up front but more crucially in defence where we have kept three clean sheets this week.
Jens Todt: The coach prepared the lads perfectly and things went exactly to plan. It was a superb team performance and everyone gave their all for each other. We must however not forget that the score line does not properly reflect the game which was much closer that it looks. Had Leiptig scored at the right time things would have become very tight. But we stood up to them by performing well as a team. Wins of course make things easier, especially integrating new players. Now we face another game next week and must prepare accordingly.
Markus Gisdol: We rounded off a perfect week with superb victory, which was anything but expected. I must state though that we must not read too much into it because it was just another small step. We prevented them from playing to their strengths today. Our build up play was focused and we did not fall for their pressing traps which was the key to success. We also had things go our way in decisive situations. We deserved to win but we must not over value it although such a performance deserves praise.
Ralph Hasenhüttl (RB Leipzig coach): We had a poor home game. We had a couple of players returning after a bout of flu. It was plain to see that it would be tough to carry on top form. We missed an early chance and by doing so played into their hands. We only had one chance as the shot by Yussuf struck the outside of a post. Had it gone in it would have put pressure on them. We lack precision at the moment. We rarely troubled HSV today which is why we deserved to lose the game.