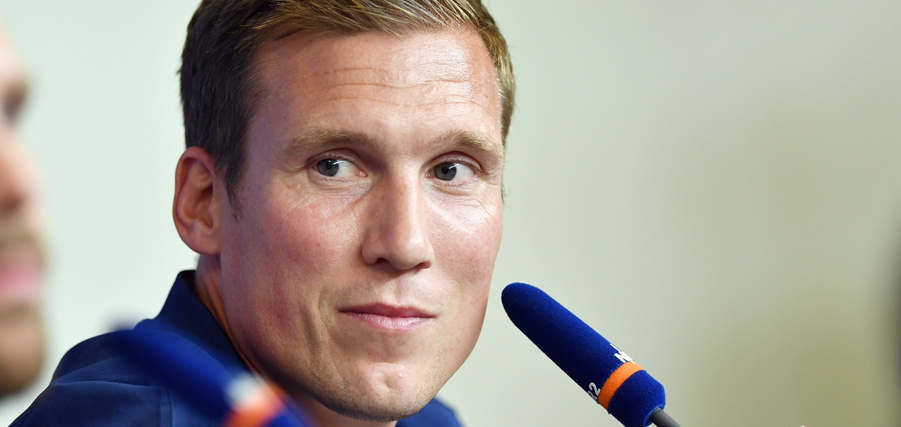 Press conference
09.11.18
"Aue game no easier than Köln"
Hannes Wolf spoke in today's press conference ahead of tomorrow's game against FC Erzgebirge Aue about Hee-chan Hwang's exclusion from the squad, his expectations of the game and his relationship with Pierre-Michel Lasogga.
HSV head coach Hannes Wolf and his team need to play a balancing act this week. After the emotional 1-0 win against league leaders 1. FC Köln, Die Rothosen will face FC Erzgebirge Aue on Saturday afternoon at 13:00 CEST, which will be a completely different challenge. Aue needed to win the play-off game last season against Karlsruher SC to avoid relegation and they are now 13th in the league. HSV will want to put in a good performance to defend their lead at the top of the table. Despite the game appearing easier on paper, it will still be a tough match to win. Hannes Wolf has made this clear over the past few weeks and further highlighted it in today's presser, by saying: "The game will be no easier for us. It will be a close match and it will be difficult to get the win so we need to be on it from the off tomorrow."
The 37-year-old spoke in the press conference about…
…the squad news: Hee-chan Hwang had to pull out of training because he was feeling a pain in his muscle again. It would be a big risk to play him tomorrow so he will miss out of the squad. It is only a small injury but it is serious enough for him to not be able train or play. Janjicic will also miss out tomorrow. He trained for the first time today but he has been really ill in the past few weeks.
…his expectations for the game: It is a big game for Aue and their players will be really up for it and be very aggressive. They will try to make it a scrappy game and set up with a five at the back. We need to be able to combat this. We need to go into the game with this mentality and be prepared to get hurt. It will be a close and difficult match. We need to be switched on at all times and not just for the majority of the game. We have to play at our best to get the three points.
…the balancing act between Köln and Aue: The game for us is no easier than against Köln. We had the time to celebrate the win against Köln and we have also had numerous days to prepare for the Aue game. The fans should be allowed to celebrate after such a win. This does not mean that we cannot replicate such a performance again five days later. We now have the chance to win again and go into the international break feeling positive. This is the right mentality for the players to have.
…the vacant centre -back spot: It is a great position to be in as a manager to have David Bates and Léo Lacroix both in such good form. We have often kept clean sheets with David at the back but Léo played brilliantly against Köln. It is not a black and white decision, where there is a right and a wrong answer. It will be a tough decision to make.
…the current league table: You can feel the joy in Hamburg that both teams are up there in the table. It is not at the stage of the season where you have to be overly bothered about how the other teams are doing. At the end of the season, you might be tempted to check the other teams and look at the rest of the table but the only focus at the moment is to gain as many points as possible.
…his relationship with Pierre-Michel Lasogga: We understand each other well, especially when you think that we haven't known each other for that long. Our discussions are always very professional and I try to give him information to try and help him. We talk a lot about the finer details and things like pressing. I don't need to give him any more motivation and I don't want to hold him back. I hope that he will continue his form tomorrow and take a few chances for us.