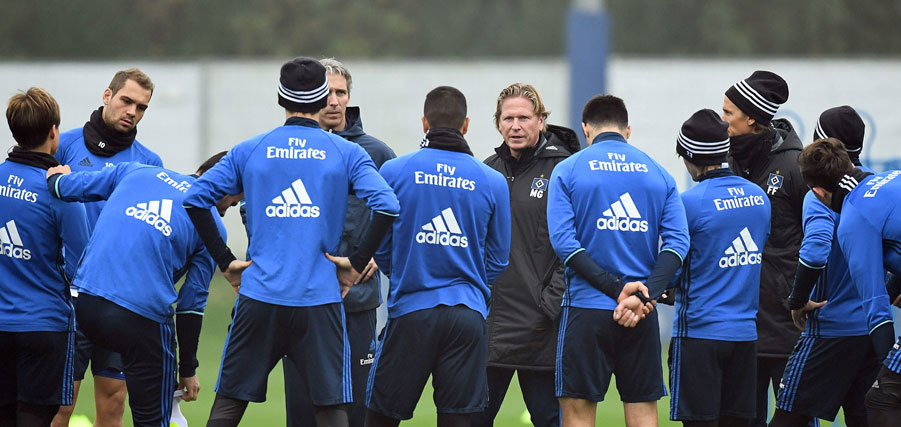 Between Bundesliga and DFB Cup: "Objective and very direct"
The analysis of the dismal 0-3 home defeat to Eintracht Frankfurt was short and to the point: "We have no time to mourn", knows HSV coach Markus Gisdol, whose HSV team are in action again on Tuesday night in the DFB Cup.
The measures taken and words found ny Gisdol following the defeat on Friday night were loud and clear. He sent the players out into the nearby Volkspark to run off the frustration and clear minds, before he got down to business about what happened on Friday night.
"Good that we have no time to reflect"
Gisdol was dealing with the game late into the night as he watched the full 90 minutes before meeting the players on Saturday morning: "Objective and very direct, because a performance like the one on Friday was not on the cards following the fighting performance in Gladbach. That is why it was more of a case of me talking rather than a meeting", said Gisdol.
Gisdol saw an even game before HSV conceded the opening goal through a glaring mistake which completely threw the team: "Our greatest problem was visible after they opened the scoring. Our team is insecure and lack stability. We have to resolve that as soon as possible and it is our job to work hard on it." There is little time to dwell on the Frankfurt loss because the Rothosen are in action again on Tuesday night (25.10) as they take on lower league outfit Halleschen FC away from home in the latest round of the DFB Cup. Gisdol: "It is a good thing that we don't have time to dwell on Friday night. It is good to have a chance to put things right so soon afterwards. The team is showing what they can do every day in training. We must find a way of bringing it into games, and to reach the next round of the cup by winning in Halle. Every game is a new chance for every individual and us as a team. We want to taste success on Tuesday night because it breeds confidence. It is our duty to win there."