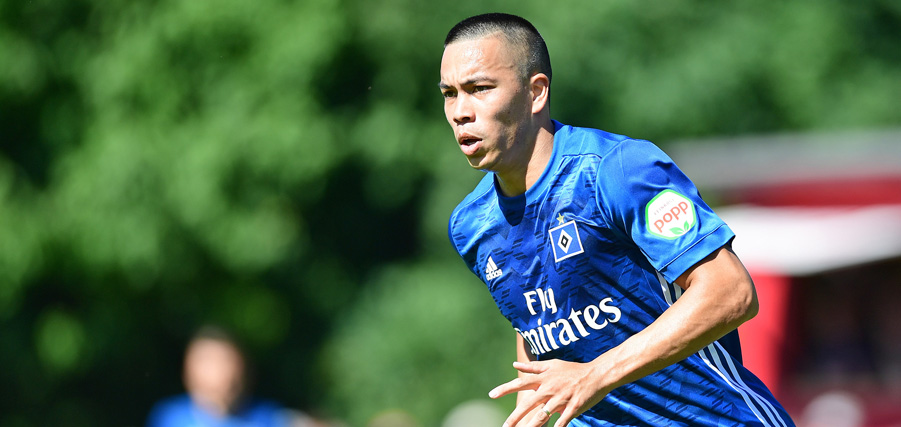 Bobby Wood: Fresh start with a new-found confidence
The returning Bobby Wood wants to put the past two seasons behind him and reignite his best years in the second division. He's already moving in the right direction
Bobby Wood knew straight away who he had to thank. New signing Sonny Kittel had unselfishly laid the ball off to him, so that all the American had to do was pass the ball into the empty net, making it 8-0 to Hamburg against local side TSV Buchholz 08 in the process. The 26-year-old centre forward patted Kittel on the back of the head and gave a few high fives to his new teammates before netting twice more, eagerly collecting the ball from the goal after his second of the afternoon, showing his desire to get himself on the scoresheet. "It felt really good. Every goal is important and makes you feel better. It's always a great feeling to score," added Wood, after being the last man to leave the pitch, having satisfied all of the autograph hunters who were looking for his signature after the game.
"Every player feels like they belong when the manager believes in them"
Wood, who has played 45 times for the American national team, is looking to put two difficult seasons behind him, which included five goals in 44 league appearances, a whole host of managerial changes and two relegations, having been sent out on loan to Hannover 96 in August 2018. "My time in Hannover really dragged on. At the beginning it was ok but by the end it had become a really difficult situation for me," says Wood, who signed for the club on the Elbe at the beginning of the 2016/17 season after finding the net 17 times for Union Berlin in the previous season. However, things now look a bit different in Hamburg second time around for Wood; a new sporting director, new management team and several new faces on the pitch as well. "I very much feel at home and like I've been accepted again already. The boys are trying to introduce new rules; we want to behave like a real team on and off the pitch so that we can achieve our goals in the upcoming season. That certainly was the case today," according to the 26-year-old, who also spoke positively about new boss Dieter Hecking's inclusive approach. "As a player you can certainly sense how much experience he has. He wants to give every player self-confidence and that can only be good for the whole squad. Every player feels like they belong when the manager believes in them."
Hecking, as well as sporting chief executive Jonas Boldt, both realised Wood's quality during their spells in Mönchengladbach and Leverkusen respectively, and were quick to come to the defence of the oft-maligned forward, making it clear that it wouldn't be fair to write the forward off already. The manager isn't interested in what happened in the past: "During training you can see that the joy of playing football is coming back to him, he's always hungry for the ball and is a real handful for the defenders with his strength and pace. I hope that he proves to be a good addition to the squad."
Wood showed how much he can bring to the table in Buchholz. A hat-trick inside 27 minutes against a fifth-division side perhaps isn't something to write home about, but for a striker who's going through a particularly dry spell, every goal is like a drop of water in the desert. "Enough has already been said about what I can't do. I've just got to think about my strengths, do my own thing and then it will all start to go in the right direction," added Wood, at the same time combative yet assertive. "Of course every striker needs goals. Bobby scored three today, which will do him the world of good," said new recruit Sonny Kittel, who welcomed Wood back to Hamburg with a gift in the form of an assist for the American. On that note: welcome back, Bobby!