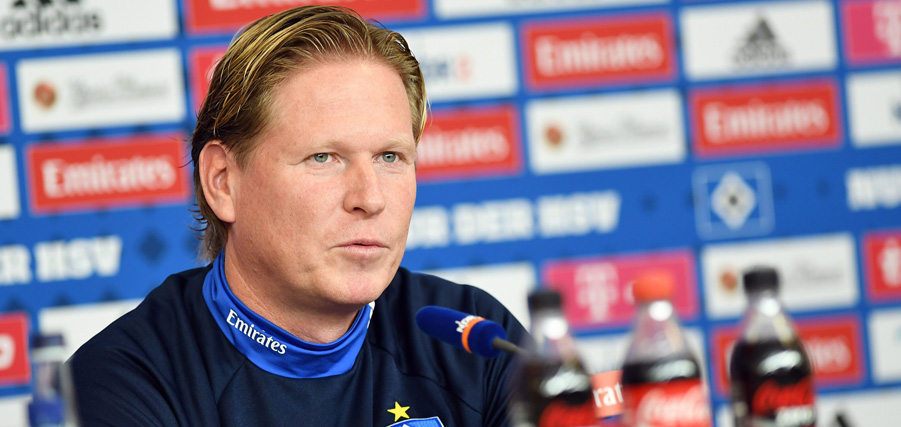 Press Conference
19.01.17
Carry over the spark
At the first pre-match press conference following the winter break on Thursday (Jan. 19), ahead of HSV's matchday 17 trip to VfL Wolfsburg (21.01.17, 3:30 PM ), Rothosen coach Markus Gisdol discussed the winter training camp, team matters and the development of the club.
The hearts of football fans have begun to beat a little faster as the Bundesliga restart looms this weekend. HSV is no exception and huge anticipation is in the air in and around the Volksparkstadion. Gisdol has also caught the "anticipation bug." He told the gathered media on Thursday: "When you begin to see match previews it releases a strong feeling of anticipation. Some say that life has a meaning again." Fans are in the same situation, hoping that the team will be able to consolidate the pre-winter break form in Wolfsburg on Saturday. In the press conference which lasted 17 minutes, Gisdol spoke of the impending trip to Wolfsburg, who is available for selection and the Rothosen plans for 2017.
Markus Gisdol on…
… winter period: We came through it well on the whole. It was an intense training camp and the players trained well. We are glad to get started again after the winter break. Only proper games show how good you really are.
… team news: Rene Adler, Pierre-Michel Lasogga and Gideon Jung are all ruledout of the trip to Wolfsburg. Rene continues to struggle with an adductor problem. Pierre has a slight muscular while we don't want to risk anything with Gideon Jung, who I am sure will be training as usual next week without any problems.
… the game in Wolfsburg: A lot has happened in Wolfsburg during the winter break. They have made four new signings. But we must only focus on ourselves, hatch a good plan and ignore what the opposition is doing.
… will new signing Papadopoulos feature? He has impressed in his first training sessions. New players always need time to settle i. Djourou and Mavraj played well in defence at the training camp. We are well covered in that position but it is great having an alternative like Papa here. He will help us a lot this season but we don't know if that will also include Saturday's game.
… development at HSV: It is nice to be able to see some light at the end of the tunnel again. All of our energy over recent weeks has been invested into the team and our fans recognised and honoured it, as we saw in our last couple of home games before the break. If we can continue to maintain that spark over coming weeks we will have achieved a lot. We want to continue down the path we have chosen, build a strong unit and have a stable second half of the season.
… possible further signings: We are a little thin regarding cover for the position in defensive midfield. If the right offer comes up we are ready to act, but only if everything is right. It is not just about signing a player for that position. I saw some of our youngsters do well during the training camp and I would not worry should I decide to increase their responsibilities. Take Vasilije Janjicic for instance, who trained with us leading up to the winter break. He is doing a good job and I can easily imagine him playing at Bundesliga level right now.