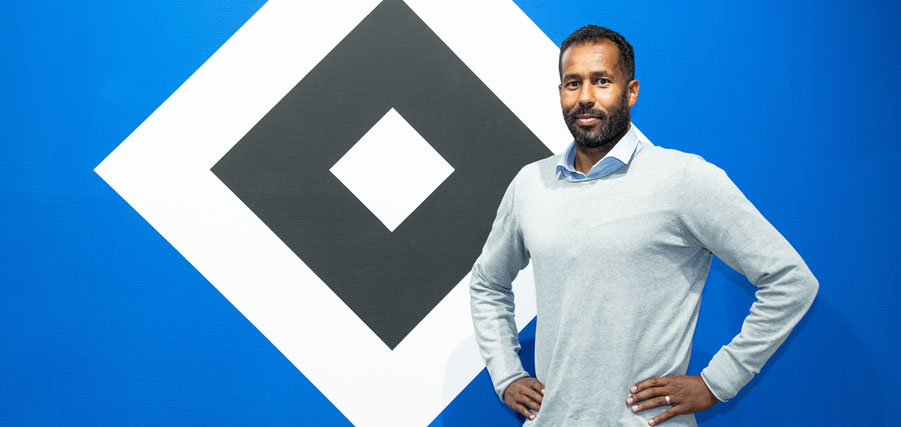 Daniel Thioune unveiled as new HSV manager
Rothosen sign Osnabrück's first-team manager. The 45-year-old pens a contract until 2022: "I want to tackle the challenge head-on with diligence, team work and passion."
Hamburger SV has laid down its first marker for the 2020/21 season, unveiling Daniel Thioune as the club's new first-team manager. The 45-year-old arrives from fellow 2. Bundesliga club VfL Osnabrück, where he rose through the ranks, having made a name for himself in the club's youth academy after joining in 2013. Thioune was appointed as the Lilac's first-team manager in October 2017, securing promotion to the 2. Bundesliga in 2019, and establishing the club from Lower Saxony in the second tier with a 13th-placed position in their first season back in the 2. Liga since 2011. The 45-year-old, who was able to leave the Lilacs due to a release clause in his contract, which was valid until 2021, has now penned a two-year deal at the Volksparkstadion.
"We want to develop players individually and thus develop the team as a whole. In Daniel Thioune we have signed a manager, who continually developed a team in Osnabrück despite limited resources at his disposal. He fits into our outlook, which has been adjusted due to changing possibilities. We sensed from the moment we contacted him, that Daniel was hungry for this challenge, and we are very much looking forward to working together," were Head of Sport Jonas Boldt's comments on the unveiling.
Thioune confirmed his willingness to take on a new challenge: "For me, the task at hand at HSV will be a great challenge, which I would like to tackle head on with diligence, team work and passion." The former striker bade farewell to his colleagues in Osnabrück this morning and will now work with the sporting hierarchy at HSV to prepare for the 2020/21 season.
The former Osnabrück coach, now at his second club as a manager, spoke objectively of setting goals for the upcoming season: "Everyone knows that HSV wants to be back in the Bundesliga. But to talk about that, doesn't bring us closer to that goal. From my first day onwards, I will work hard with my team to develop all of the players and give the team the best chance to play football successfully."
Jonas Boldt was in full agreement with the outlook of his new manager: "We are aware of the new situation we find ourselves in, due to coronavirus and being in the second division. We won't bemoan our situation, but take it on board and make the best out of it. For us it's now a question of overcoming the current challenges we face and bringing a team together with the resources we have at our disposal. We're working towards that goal with everything we've got."