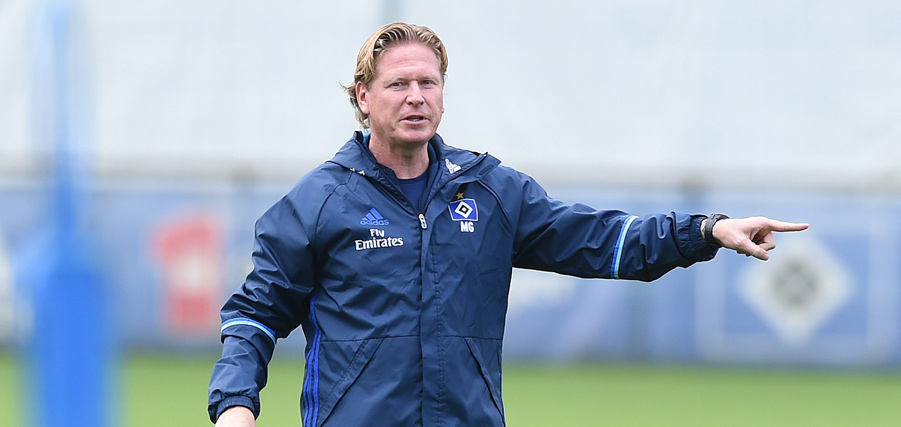 Post-Match Report
25.09.17
Derby in sight, tough analysis and focused preparation
After rounding off the English week without any points after losing 0-3 in Leverkusen, attention now turns to the northern derby against Werder Bremen in Hamburg on Saturday evening.
A glance at the HSV players after the final whistle of the 0-3 defeat in Leverkusen showed how devastated everyone was. After three straight defeats, coach Markus Gisdol and Co. had hoped to take something home from Leverkusen to stop the rot. But once again they came up short. A brace by German international Kevin Volland and a goal by Bundesliga newbie Lucas Alario decided the game in favour of the home side. Despite another battling performance the omission of so many key players and such a thin squad took ist toll: "It was not one of our better performances to put it mildly", admitted Gisdol on Monday morning as everyone reported back for training. He then added: "It is important that we take a clear look at the situation. We had hoped for better after beginning the season with two wins and maybe there was more possible for us. Of course four straight losses is not nice and hurts. Still, its early in the season and far too early for it all to be doom and gloom."
After the obligatory Monday morning jog through the nearby Volkspark the players and staff were given Tuesday off, it being important to give everyone time to clear their minds off the disappointing run of results. On Wednesday (27.09) all focus turns to matchday 7 and the visit of bitter northern neighbours Werder Bremen to the Volksparkstadion in Hamburg on Saturday evening (30.09.17, 6.30PM). The Rothosen are hoping to end their dismal run and who better to do it against than old arch rivals Bremen.
HSV.de reviews the Leverkusen loss, reports on latest squad news and looks ahead to coming days.
The game: After losing the third and final game of their English week 0-3 at Leverkusen, the players were understandably devastated. The travelling fans who together with home supporters had given the lads a standing ovation for their efforts against table-toppers Borussia Dortmund (0-3) in midweek had hoped for more at the packed BayArena. After Gisdol's men matched the home side during the opening twenty minutes disaster struck as the home side scored twice inside three minutes through Volland (20.) and Alario (23.). Hamburg did try hard and managed to cvreate chances of their own which were missed by Andre Hahn (31., 70.) and Lewis Holtby (58.). As had been the case in the last three games the Rothosen lacked threat in front of goal. Unlike Leverkusen who were efficient to a point. It was not surprise then as Volland completed his brace by making it 3-0 seven minutes shy of full time. It was the final goal to complete a miserable night for HSV.
"It is not as if Leverkusen blew us away and we didn't have enough space. We didn't take our chances and that was the difference", said defender Mergim Mavraj in the mixed zone afterwards. Head coach Gisdol: "We defended carelessly, didn't take our chances and in doing so were unable to pressure the opposition. We were poor in defence and up front we didn't do enough which is a shame. We were'nt far away from being able to keep them at bay for a longer period."
Team news: Our problems up front are of course to do with the key men we have out injured. With Müller (cruciate ligament surgery) and Hunt and Kostic (both torn hamstring) a trio of first team regulars were missing. Add to that the fact that Ekdal (back), Thoelke (build up training) and van Drongelen (infected pelvic bone) also missed out through injury. Gisdol: "I have mentioned several times that such a small squad could get stretched during a season. Of course you need a little luck with injuries which is something we haven't had to now."
Things looked to be getting even worse as Walace was replaced at halftime. While the Brazilian midfielder looks likely to be able to start against Werder, Sven Schipplock missed Monday training with a back problem, only adding to Gisdol's attacker woes. It is not known how long the problem will last. On the good new side midfield general and former Werder Bremen crowd favourite Aaron Hunt looks likely to face his former club. Gisdol said on Monday: "Had today been normal training Aaron would have been able to participate. We have prepared him well and should things go to plan he could make the squad." Ekdal could also return. His coach: "I am optimistic but it is too early to say anthing definite."
After making his debut in Leverkusen young hopeful Tatsuya Ito could feature on Saturday. Gisdol explained: "It was refreshing to see the way he played. It is always interesting to see how yougsters perform on the big stage. Ito confirmed the impression I had of him in training and did well." Rick van Drongelen on the other hand is not yet ready. The young Dutchman has recently been sidelined with an infected abdominal bone. Gisdol revealed: "We could play him on Saturday but the risk with such a young player would be simply too great."
Looking ahead: Gisdol's men could make a lot good by beating Breman in Hamburg this weekend. It will be the 107th time the teams have met in the Bundesliga. They have failed to collect any points or indeed score any goals in their last four games. Time for a change hopefully. The coach again: "We have top calmly address the thing that didn't go right for us and it will be a tough analysis with no punches pulled. We must not panic and hectic never did anyone any good. We have a clear view of the situation and the season is still young. We have lost against Leipzig, Dortmund and Leverkusen who are all teams you can lose against."