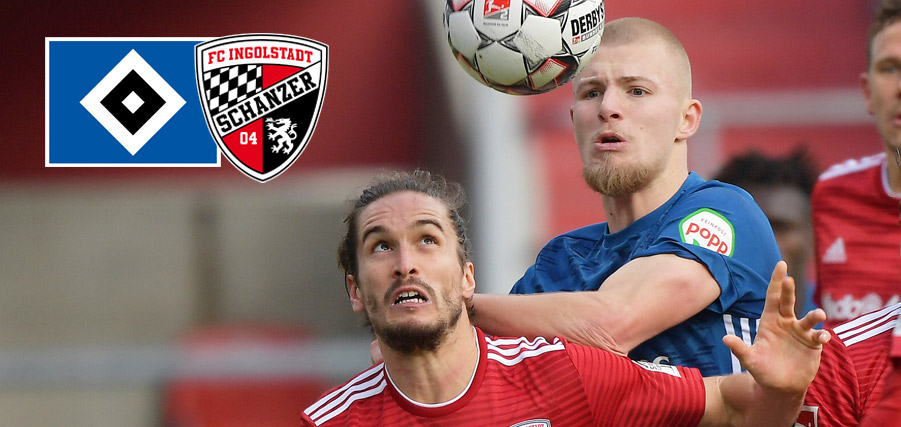 Pre match report
03.05.19
From hunted to hunter
Hamburger SV are looking to turn things around with a win against Ingolstadt, in order to up the pressure against Union Berlin and Paderborn. Needed are players who are willing to give it their all.
As HSV prepare to face FC Ingolstadt at home on Saturday (13:00 CEST), a key change has taken place at the top of the table. After a loss against FC Union Berlin last Sunday, HSV are no longer in the top three of the table—for the first time since matchday 10. With just three matchdays remaining, the team's goal of finishing at the top may be in danger. Hamburger SV will have to make up ground in order to move back into the top. "For a long time, we were the hunted, now we must become the hunters. In order to do so, we will have to give our all and believe in our own strength," said Hannes Wolf.
Mangala fit, but not Hunt
The team are highly focused after spending the past three days at training camp in Rotenburg an der Wümme. The training camp helped to sharpen the players' focus and strengthen the bonds between them. HSV previously travelled to Rotenburg in 2017 under then-head coach Markus Gisdol, in order to stay sharp in the final weeks of the season. It worked: a 2-1 win against VfL Wolfsburg made possible a last minute jump to 15th place. Luca Waldschmidt scored the deciding goal, his first for HSV.
"We need players who are willing to bend over backwards during the final games of the season," Wolf said. "Everyone still has a chance to be part of the squad on Saturday." Everyone that is, except for Aaron Hunt. The captain will miss out not because of his performance, but due to back problems that have plagued him since the game against Union. However, Orel Mangala has been given the green light, and could feature in the match against Ingolstadt. As for Wolf's formation and game plan, it is still wide open. "We want to wait to make any decisions on our line-up," said the head coach.
Need to have respect for the opposition
Even Wolf's counterpart, Tomas Oral, has nearly a full squad to draw on, not including top-scorer Sonny Kittel (eight goals, six assists), who is suspended after picking up a fifth yellow card. Ingolstadt are undefeated over their last four games (three wins, one draw), having picked up 10 points. That includes two away wins against Duisburg and Bielefeld, with a goal difference of 7:3. Ingolstadt are just one point below the relegation spot, currently held by Magdeburg. "It will be an interesting match on Saturday, as both teams will give it their all. We hope to come out on top," Oral said during a press conference.
Meanwhile, Hannes Wolf knows what challenge awaits his side. "We need to have respect for our opposition. We need a constant intensity and want to bring our own play into the game." It will take a win for HSV to up the pressure against Union Berlin and SC Paderborn, and to get back into the fight for second and third place. "We want to influence what we can," Wolf said.

HSV squad to face FC Ingolstadt: Goalkeepers: Pollersbeck, Mickel; Outfield: Arp, Bates, Douglas, Hwang, Janjicic, Jatta, Jung, Lacroix, Lasogga, Mangala, Narey, Özcan, Sakai, Vagnoman, van Drongelen, Wintzheimer.
Probable Ingolstadt squad: Neumann, Paulsen, Mavraj, Paulo Otavio – Cohen – Krauße, Gaus – Kerschbaumer – Kutschke, Lezcano

Referee: Markus Schmidt