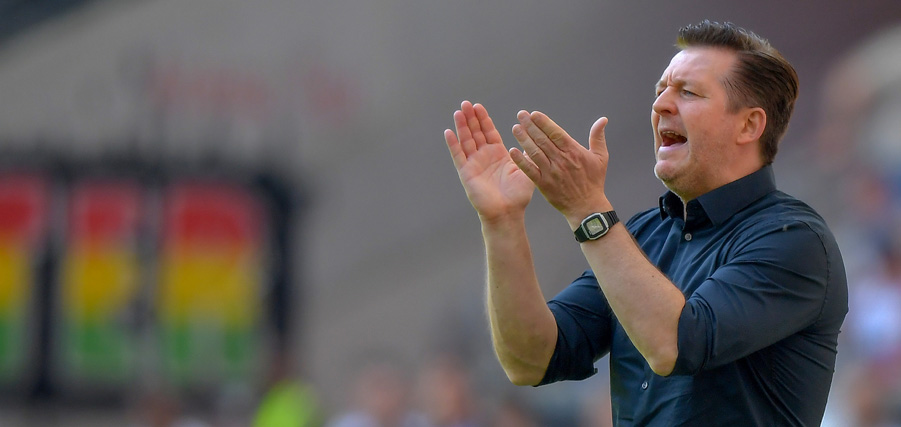 Post-match report
06.05.18
Fully focused on the season finale
After yesterday's 3-0 defeat at the hands of Eintracht Frankfurt, HSV's survival hopes are now on life support. Not only is a home win against Borussia Mönchengladbach essential on matchday 34, but other things need to go their way as well.
The Rothosen's disappointment after the bitter 3-0 loss to Frankfurt on Saturday afternoon was palpable. Players left the pitch with their heads hanging. The self-titled "semi-final" ended in defeat and their hopes for Bundesliga survival suffered a setback. The big topic shortly after the game was a questionable VAR decision which disallowed a HSV goal. However, the news that Wolfsburg had also lost to RB Leipzig (4-1) meant there was a small silver lining nevertheless. And so, the disappointment was quickly put behind them. Giving up is still not an option for Christian Titz and his team. The Rothosen can't secure their safety themselves on the season's final matchday, but they can do their part to make sure the seemingly impossible remains possible. "We have no impact on what happens around the other grounds," explained Christian Titz during his media availability on Sunday. "We have to focus on ourselves. That means winning next week at home." Nothing else matters for HSV next Saturday.
HSV.de reflects on yesterday's game, as well as providing an overview of the personnel situation and the outlook for this crucial upcoming week.
On the game: The fact that this game meant a lot for both teams became quickly clear out on the pitch. A multitude of crunching challenges and strong defense characterised the game's early goings. Unlike the week prior, where it was a game between two direct competitors in the fight for top-flight survival, Frankfurt are fighting themselves to secure a spot in European competition next season. Christian Titz's side looked to cancel out Frankfurt's attacking firepower by starting with a slightly more defensive line-up to the one that played Wolfsburg, namely with Albin Ekdal starting in the place of Filip Kostic. It was a plan that seemed to work out in the opening stages, as Frankfurt struggled to create any meaningful threat on Julian Pollersbeck's goal. It was actually HSV's Tatsuya Ito that would find the net first to put his side up by one, or so he thought. The Video Assistant in Cologne looked over the build-up and adjudged the diminutive forward to have been played in from an offside position. Referee Deniz Aytekin agreed and chalked the goal off.
It was a turning point in the game that would surely be very controversial. Not least because Marius Wolf fired the hosts into the lead six minutes later (31') and even more so because the Rothosen tried everything to equalise but couldn't quite do it, thanks to another goal being disallowed for offside. Instead, Frankfurt increased their lead with two well executed counter-attacking goals (77' Omar Mascarell, 90+1' Alexander Meier) to make the final score 3-0. "We played too cautiously and didn't play well at the back," analysed Christian Titz the day after the game. "You can't lose a game if you don't concede. But we just didn't defend their counter-attacks well enough. Every goal was a result of us being outnumbered. But we also had our own chances. At the end of the day, Frankfurt finished their chances - that was the difference."
On the squad: Tatsuya Ito had every intention of being one of the match-winners against Frankfurt on Saturday, but his day unfortunately went much differently. First his goal was disallowed by VAR, and then his day came to an early conclusion at half time. "We would have loved to let Tatsuya carry on playing, but unfortunately we had to take him out due to a concussion," explained Titz on Sunday. "He was body-checked and couldn't remember what had happened in the game. The risk was too big." Ito will be evaluated further back in Hamburg and be monitored overnight. "It's looking okay at the moment," explained the coach. "He doesn't have to go to a hospital. He will take a few days off and then hopefully he'll be able to rejoin training on Tuesday."
If there was any silver lining to Saturday's proceedings, it came courtesy of Nicolai Müller. The 30-year-old came back into the matchday squad for the first time since his ACL tear in August. "It was a huge motivation for me to be back out on the pitch today. I've worked really hard to get here - it was my biggest aim. I wanted to help the team as much as I could and didn't think about my knee at all," said Müller after the full-time whistle. "We all know the situation, but I still think we can do it."
The outlook: Even though the 3-0 loss against Frankfurt is a severe blow in HSV's battle to stay in the Bundesliga, no one in Hamburg is giving up. After VfL Wolfsburg's 4-1 loss at the hands of RB Leipzig, the gap between the Wolves in 16th and the Rothosen in 17th is still the same. Two points separate HSV from the relegation play-off place. Hamburg have to win against Borussia Mönchengladbach on Saturday (KO 15:30 CEST). The team will therefore be fully focused in their preparation for the game over the coming days. "We just need to have a look at ourselves in the mirror now and prepare mentally for the final game. We need to work together with the fans to make sure we get the win. We have to give 110% this week. We haven't given up hope and neither have the fans. Their support today was incredible and they stayed till the very end. And we will fight until the very end," captain Gotoku Sakai said after the loss in Frankfurt. The head coach was also singing from a similar hymn sheet: "We lost the game against Frankfurt and we can't do anything to change that now, so now we have to look forward. We are just two points back. In football, anything is possible. In our stadium, with our fans behind us every step of the way, we have a real chance of winning the game at home."