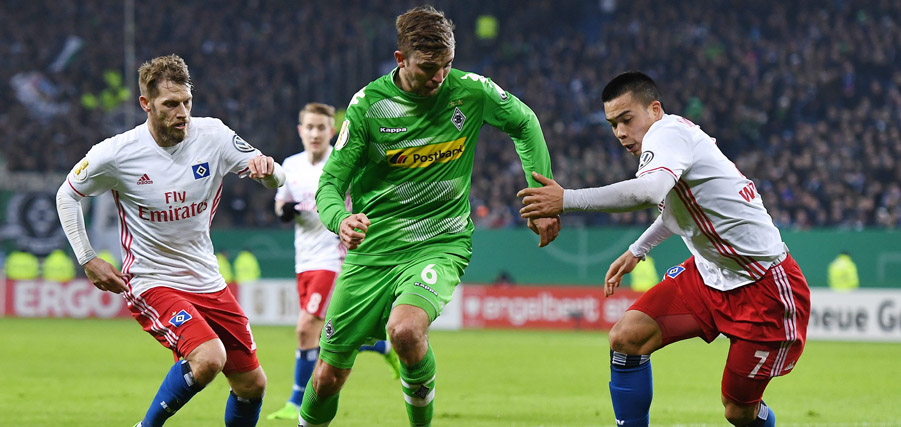 "Gave everything but had no luck"
HSV exited the 2016/17 DFB Cup at the quarter final stage on Wednesday evening, going down 1-2 to Borussia Mönchengladbach at the Volksparkstadion in Hamburg. HSV.de met the disappointed protagonists in the mixed zone after full time.
The Rothosen had a decent hold on the DFB Cup quarter final home clash until around the 52nd minute. The gritty home team side were keen to banish remaining thoughts on the 0-8 Munich mauling to bed very quickly. Sadly though Markus Gisdol's team were harmless in front of goal despite creating a number of good chances. Then came the 53rd minute as Gladbach's Lars Stindl coolly slotted home a justified penalty to give the visitors the lead. A lead which would be extended for an almost identical incident only eight minutes later. This time it was the turn of Raffael to fire home from the spot which he did with ease. HSV gave everything but failed to find the back of the net until two minutes into injury time with almost the last kick of the game (90.+2). It just wasn't HSV's night. Read the post-match reaction here.
Bobby Wood: Although going out is bitter, we can be proud of the way we approached the game mentally and the passionate way we played. We have to carry over that spirit to coming games. If we can do that we will be successful. It was superbly positive the way our fans treated us today, which is unusual after games like the one in Munich. Their support really helped us today.
Aaron Hunt: It makes you sick. We gave the game away. We were clearly the better side and I had at no time the feeling that we could lose it. We played especially well in the first half, but we created chances but luck was not on our side today. Both penalties of course cost a lot of strength but well done to the team. They had freed their minds of what happened in Munich – which is not an easy thing to do. Our fans were right behind us from the opening till the final whistle so a big thank you to them.
Gotoku Sakai: We had high hopes of progressing. We had a lot of chances in the first half and had one gone in, I believe the game could have taken a completely different turn. The two penalties in such quick succession hurt us. I'm not sure how much contact there was with the second spot kick. I would say that it wasn't a penalty but I haven't yet seen any TV pictures. It was bitter today but that is football. What was positive was tzhe way we fought hard until the very end. We showed a very different side to what happened in Munich. It was a good reaction.
Matthias Ostrzolek: For me that was never a penalty. I came too late but tried to avoid contact and only slightly touched him with my shin bone. Of course such incidents are resulting often in penalties and players go down a lot easier. If such fouls were given i9n open play, we would have games with more than a t00 fouls taking place. It was our fault that we did not break the deadlock before the break. We take a lot of positives from the game though. We gave our all and the fans saw and respected that but were just unlucky in front of goal. On Sunday we can make it happen together. For a player it is fantastic to get such amazing support. The support of our fans is extremely important to us.
"What they said to us was extraordinary and further underlined the close bond between fans and team."
Markus Gisdol: I am very satisfied with the performance of my team today. We managed to return to the form we showed pre-Bayern. We made a good start to the game but failed to take the lead. We were poor at one of the penalty decisions but we also had no luck in forcing the ball over the line. But we almost had them. The fans were once again tremendous today. They can sense how the team is doing. We read their public letter to the team in the changing rooms before kick off. What they said to us was extraordinary and further underlined the close bond between fans and team – a bond that we have earned over recent weeks. Theior support is absloutely vital for us. Tough months are approaching.
Dieter Hecking (Gladbach coach): We saw a great cup game here today. HSV were clearly better for the opening half an hour causing us problems at times. We made a cautious start and knew that the opening Hamburg barrage had cost them a lot of stamina, which gave us more operating room. During the break we knew we had to invest more and use our speed and did well from the penalty spot. We caused them a couple of problems at the back. During that period I was hoping for a third goal because we had enough chances but failed to round the moves off effectively. In the end we won 2-1 and are just glad to have taken what was a very high hurdle.